Do you love winter? Are you a fan of the great outdoors? It's time to book a trip to Big Sky, Montana. Big Sky is the perfect destination for every winter enthusiast. While Big Sky might be most famous for skiing and snowboarding, the winter hiking in Big Sky is also world class. In fact, hiking is one of the best ways to explore Big Sky, Montana all year long.
Where To Go Snowshoeing In Big Sky, Montana
Big Sky is tucked into the middle of the mighty Madison Range and offers endless hiking opportunities. The sprawling Gallatin Range sits just across the Gallatin River and Yellowstone National Park is just minutes away. It's the ideal place to get outside and enjoy the beautiful scenery of Montana while it's under a blanket of snow.
Are you ready to explore this winter wonderland? Here are some of the most popular trails for winter hiking in Big Sky: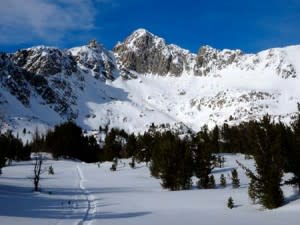 Beehive Basin, Big Sky, Montana
Beehive Basin - 6.6 miles round trip - Voted one of the best hikes in the world, Beehive Basin starts in the high country and allows you to travel on a well trodden trail through a series of meadows into a stunning alpine cirque. The snow can be deep, making travel challenging. It's also imperative to watch out for backcountry skiers and snowboarders!
Ousel Falls - 1.6 miles round trip - Ousel Falls is one of Big Sky's most popular hikes. The trail sees steady traffic year round, making it a good and short winter hike that's conveniently located near Town Center.
Hummocks & Uplands - 5 miles round trip - Within sight of Big Sky Town Center, this dog friendly trail is a blast. Hike Hummocks, Uplands or both! Hummocks is 3 miles through the forests, while Uplands is 2 miles and offers outstanding views of Big Sky and the Madison Range.
Moose Tracks - 2.2 miles round trip - Moose Tracks leaves from Big Sky Resort's Mountain Village and meanders through the forests and meadows below Lone Mountain. If you're heading out, stop by Big Sky Basecamp and book a snowshoe tour guide. These hiking pros can help maximize your winter hiking experience.
Lava Lake - 6 miles round trip - Lava Lake is located near the 35 MPH Bridge in the Gallatin Canyon. The trail heads into the mountains along Cascade Creek and delivers you to an outstanding alpine lake in the vast Lee Metcalf Wilderness.
These five hikes are definitely among the most popular options for winter hiking in Big Sky, but their are endless trails to explore. Don't miss Porcupine Creek, North Fork, Daly Creek, Fawn Pass, or others. Stop by any of Big Sky's outdoor retailers to grab gear or get more information about winter hiking in Big Sky. Download a trail map at BSCOMT.org.
5 Kid Friendly Hikes In Big Sky
If you're heading into Big Sky's backyard during the winter months, please be prepared for whatever Mother Nature throws your way. Dress appropriately. Carry the necessary gear, food, water, and extra layers. Check the weather. Be aware of avalanche conditions. Pack your camera. Depending on snow conditions, you'll most likely want snowshoes and poles. And always bring a friend.
Winter is one of the best times to get outside and enjoy the pristine surroundings and fresh air of Big Sky Country. Make a point of going winter hiking in Big Sky the next time you visit our mountain town.
See Also: