Hiking can take you to amazing places. Grab your hiking boots, bear spray, and other hiking essentials and hit the trails in Big Sky, Montana. With hundreds of miles of hiking trails criss-crossing the mountains of Big Sky, it can be hard to choose which trail you want to hike first. Luckily, we are here to suggest some of our favorites.
Explore some of the best hikes in Big Sky:
Location: Big Sky Town Center
Trailhead: Ousel Falls TH
Distance: 1.5 miles round trip
Elevation Gain: 500 feet
Ousel Falls is probably the most popular hike in all of Big Sky. This mellow hike follows the South Fork of the West Fork of the Gallatin River to a stunning waterfall. It's easy access and appropriate for all ages.

Ousel Falls | Photo: D. Lennon
Location: Summit Lake, Spanish Peaks, Lee Metcalf Wilderness, Madison Range
Trailhead: North Fork Trailhead - 7,250′
Distance: 15.7 miles total
Summit Lake Elevation: 9,560′
Elevation Gain: 3,250'+
Summit Lake sits in the middle of the Spanish Peaks. If you're looking for a big hike into Montana's high alpine environment, Summit Lake is an excellent choice.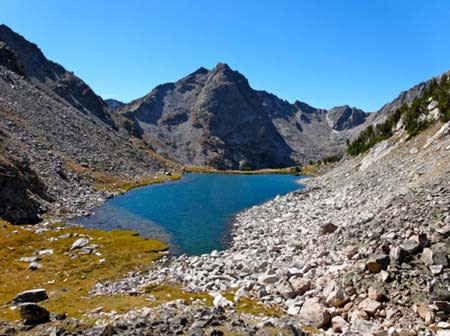 Summit Lake | Photo: D. Lennon
Location: Beehive Basin, Spanish Peaks, Lee Metcalf Wilderness, Madison Range
Trailhead: Upper Beehive Basin Trailhead - 7,900′
Distance: 6.6 round trip
Elevation Gain: 1,625′
Beehive Basin was named one of the world's greatest hikes, and for excellent reason. This hike provides easy access to stunning alpine terrain. If you're looking for lakes, towering peaks, and a well-trodden trail, then head to Beehive Basin.
Beehive Basin | Audrey Hall Photography
Location: Portal Creek, Gallatin Canyon, Gallatin Range
Trailhead: Upper Portal Creek TH - 8058'
Distance: 5 miles round trip
Golden Trout Lakes Elevation: 9075 feet
Elevation Gain : 1300'
Golden Trout Lakes is located up Portal Creek - a FS road heading into the Gallatin Range off of Highway 191 (about 6 miles north of Big Sky). Hop on the trail through scenic forest and climb to a beautiful alpine lake. It's an ideal place to camp, fish, and enjoy Montana.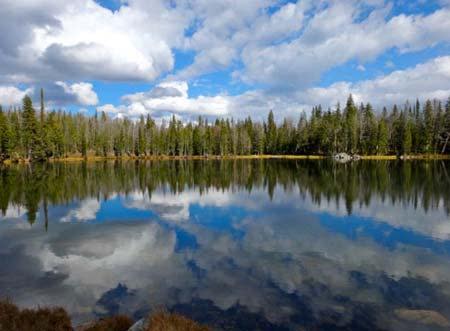 Golden Trout Lakes | Photo: D. Lennon
Location: Lava Lake Trail aka Cascade Creek Trail
Trailhead: Lava Lake Trailhead - 5525'
Distance: 6 miles round trip
Lava Lake Elevation: 7115'
Elevation Gain: 1600'
Lava Lake is a popular hiking trail that is accessed near the 35 MPH bridge on Highway 191 in the Gallatin Canyon. The Lava Lake Trail parallels Cascade Creek and ends at Lava Lake - the only non-glacially carved lake in the Lee Metcalf Wilderness.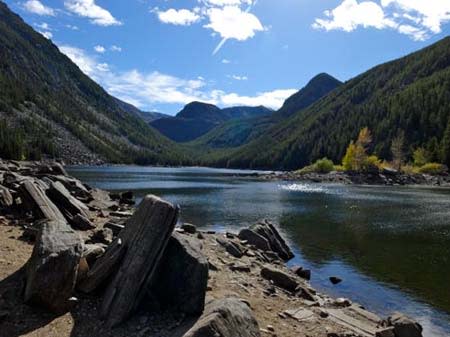 Lava Lake | Photo: D. Lennon
Location: Big Sky Town Center
Trailhead: Uplands/Hummocks TH
Distance: 2.2 miles loop
Elevation Gain: 460'
Uplands Trail was created by the Big Sky Community Corporation in 2014. This multi-use trail starts at the far end of Aspen Leaf Drive and wanders uphill on a two mile loop that provides amazing views of Big Sky Town Center and the surrounding area.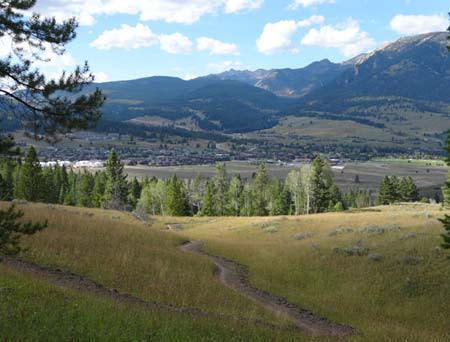 Uplands Trail | Photo: D. Lennon
Location: Albino Lake, Gallatin National Forest, Madison Range
Trailhead: Albino Lake Trailhead - 6,975′
Distance: 7.25 miles total
Albino Lake Elevation: 7,105′
Elevation Gain: 625′
Albino Lake is located just north of the Taylor Fork Road near the Nine Quarter Circle Ranch. This loop hike wanders through rolling meadows and wraps around Albino Lake before it heads back to the main road. Bring a camera because the views of Koch Peak and the Taylor Hilgards are impressive!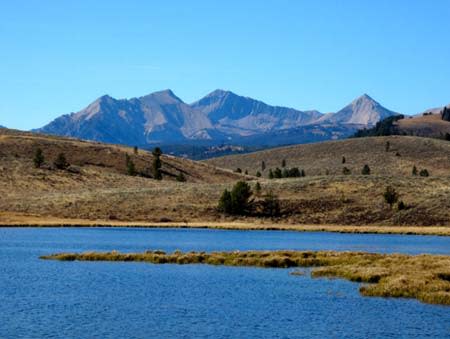 Albino Lake | Photo D. Lennon
Check the weather, find a hiking buddy, and explore the best hikes in Big Sky. The things you will see will blow your mind! Bring your camera and share your photos on social media with #visitbigsky. Hiking is a free activity that can be enjoyed by all ages (and dogs too!). Take advantage of Mother Nature. Get outside and explore!
Find more hikes in Big Sky on Montana Wilderness Association's Montana Hiking Guide. This site rocks!
See Also: