Yeti Dogs in Big Sky serves up the best gourmet hot dogs around. Located in the Snowcrest Building in Big Sky's Mountain Village, Yeti Dogs is one of the best places to grab a bite to eat or enjoy a beer for a little outdoor aprés. Whether you're here in the summer or winter, you're going to want to experience a Big Sky Yeti Dog. They're awesome.
Stop by any time and you'll see all sorts of smiling locals and excited guests relaxing at the picnic tables enjoying a Yeti Dog. It's the place to be. Not only is Yeti Dogs reasonable priced and conveniently located, the hot dogs are super tasty. There's a good reason why Yeti Dogs in Big Sky is one of the local's favorite spots.
What Yeti Dog will you try first? Here's a quick sample of the Big SkyYeti Dogs menu. FYI - They're all delicious!
BBD - Hot Dog and Bun

Are you ready for a tasty Yeti Dog? | Photo: D. Lennon
Truck Stop - Mustard & Relish (DIY Ketchup)
Lifty - Yeti Sauce (Zesty Mayo), Bacon, & Cheddar
Texi - Cheddar, Chili, Onions, Fritos
Ono - BBQ Sauce, Bacon, & Pineapple
Yeti Dog - Mustard, Yeti Sauce (Zesty Mayo), Relish, Kraut, & Onions
As you can see, Yeti Dogs in Big Sky serves up the classic hot dog - with a twist. These creative concoctions are certainly tasty treats that will leave your taste buds smiling and set you up for an awesome day in the great outdoors.
Of course, oftentimes they offer specials, and every so often the menu and prices get an overhaul. You can always count on quality hot dogs served quickly to maximize your time on the slopes. Our go-to is the Combo Meal, which includes Any Dog + Side + Soda/H20. How can you go wrong with that?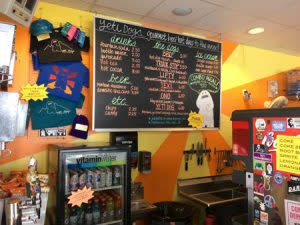 Yeti Dogs In Big Sky | Photo: D. Lennon
If you're looking for a quick and tasty meal to enjoy on the patio or to grab a bite to go while on the mountain, Yeti Dogs is your one-stop-shop for everything delicious. If you're like everyone else, Yeti Dogs will become your new favorite place to eat at the resort.
When you order your dogs, be sure to grab some Yeti Dogs swag too. They've got t-shirts, koozies, and of course stickers. Don't forget to like Yeti Dogs on Facebook. Now go and enjoy a dog and support a local business.
See Also: