Welcome to the Bozeman Yellowstone International Airport! Your final destination, Big Sky, Montana, is just up the road. All you need to do is organize airport transportation from the Bozeman airport to Big Sky. Luckily, there are lots of options that will accommodate all sorts of travelers on all sorts of budgets.
Big Sky is just a short and scenic drive from the Bozeman airport. Depending on road conditions, it takes about 1 hour to travel approximately 50 miles from the Bozeman airport to Big Sky.
Here are a few options to get from the Bozeman airport to Big Sky:
Karst Stage - Karst Stage specializes in affordable, year round trips from the Bozeman airport to Big Sky. They offer multiple trips scheduled at regular intervals throughout the day in motorcoaches/buses. You can also book private van and luxury SUV airport transportation.
Big Sky Shuttle - Big Sky Shuttle Luxury Travel Service provides private, luxury transportation at an affordable rate to anywhere that you want to go. They specialize in airport transports, regional excursions, and local destinations using a fleet of luxury SUVs and passenger vans.
Big Sky Taxi - For 20 years, Big Sky Taxi has used vans and SUVS to provide luxury door-to-door airport, local, and regional transportation and luxury excursions at an affordable price.
Classic Limo - Classic limo specializes in Bozeman, Big Sky, and Yellowstone transportation. They utilize luxury SUVs, vans, and limos for private transportation throughout the area and to/from the Bozeman airport.
Rental Cars - Rental cars offer a flexible and convenient transportation option during your stay in Big Sky. There are multiple rental car companies to choose from. Some are based at the airport and others are based in other locations:

Airport Rental Car Options
Off Airport Rental Car Options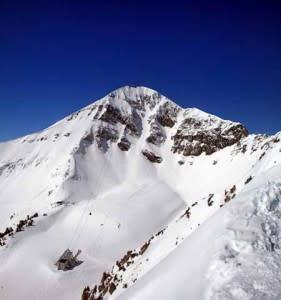 Lone Peak at Big Sky Resort
Once you're in Big Sky, take advantage of the Skyline Bus, which offers quick, easy, and convenient transportation around the Big Sky community. From the Gallatin Canyon to Town Center to Big Sky Resort and everywhere in between, the Skyline Bus helps you to enjoy everything that Big Sky has to offer.
Do a bit of research and pick the best airport transportation option for you. There are quality options for anyone and everyone traveling from Bozeman airport to Big Sky. How are you going to get to Big Sky?
See Also: