Bring Your Mountain Bike To Big Sky. It's Amazing Here.
Big Sky's mountain biking community is smiling ear to ear. Over the past few years there have been major improvements to the mountain biking terrain in Big Sky and it's putting this mountain town on the map as a mountain biking destination.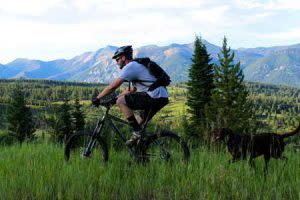 Mountain Biking In Big Sky | Photo: Grizzly Outfitters
Let's face it, summer in Big Sky rocks and one of the big reasons is that the mountain biking in Big Sky is world class. There's a massive trail system that connects hundreds of miles of forest service trails and dirt roads with miles of cross country, single-track, and downhill trails. This trail system links Big Sky Resort, the Meadow, Town Center, Spanish Peaks, Moonlight Basin, and forest service lands seamlessly. But the best part is that the mountain biking in Big Sky is ridiculously fun!
Do you want to pedal through the forests, cruise down dirt roads, hop man-made features, flow down singletrack trails, or explore the mountains on well maintained mountain bike trails? You can do it all in Big Sky.
Lone Mountain Land Company, Boyne Resorts, and the Big Sky Community Organization hired Whitefish-based TerraFlow Trails to take the mountain biking in Big Sky to a whole new level. There is now mountain biking for every ability level, from beginner to expert.
Popular mountain biking trails in Big Sky include: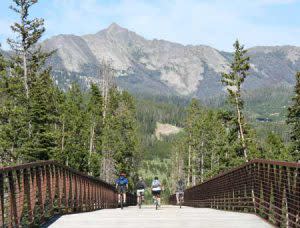 Biking In Big Sky | Photo: Eric Morrison
Mountain to Meadow
Porcupine Creek
Garnet Mountain
Soul Hole
Otter Slide
Mica Creek
Uplands Loop
And the list keeps getting bigger!
Don't miss out on the opportunity to bike at Big Sky Resort too. Big Sky Resort offers over 40 miles of roads and trails - many that are lift accessible via Swift Current, Ramcharger, and Explorer chairs. If you're new to the sport, hire a downhill coach or take a cross country tour. Learn more here. Did you know that the Big Sky Bike Park is a two-time Top Five winner at MTBparks.com Riders' Choice Best Bike Parks Awards for the Northwest Region? The biking around here is unreal.
If you don't have a bike, don't worry. Local outdoor shops like Gallatin Alpine Sports or Grizzly Outfitters can hook you up trail maps, gear, bikes, and clothing. Grizzly Outfitters even posts local mountain biking maps and current conditions. Need a tune up? Check out Brothel Bikes in the Meadow.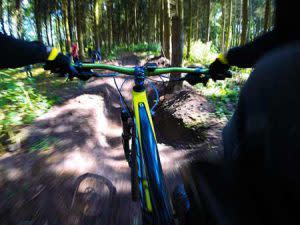 Mountain Biking POV | Pixabay Image
If you're a mountain biker, Big Sky has what you want and need. Grab your bike and come check out the mountain biking in Big Sky. You'll love it here.
See Also: