Snowshoeing has been around for thousands of years. Today, this winter sport is enjoyed by millions of people every year. Snowshoeing is easy to learn, keeps you active in winter, and allows you to appreciate the great outdoors. Are you ready to go snowshoeing in Big Sky, Montana?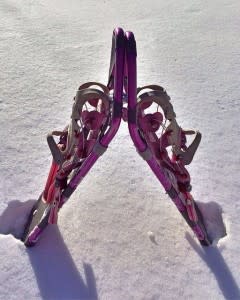 Snowshoeing is a fantastic way to get outside and enjoy Montana's fresh air in the winter. It's a social and affordable way to experience winter in Big Sky. As they say, if you can walk, you can snowshoe. It's literally that easy to to go snowshoeing in Big Sky, Montana.
Just grab a pair of snowshoes and go for a walk. If you don't have snowshoes, you can rent snowshoes and poles in Big Sky from outdoor outfitters like Grizzly Sports, Gallatin Alpine Sports, or Big Sky Resort.
Before you go snowshoeing, make sure you have all the clothes you need to stay warm in winter. Check the weather forecast, find a friend, and pack your backpack with water, snacks, and extra layers. Finally, it's time to choose where you want to go snowshoeing in Big Sky, Montana.
Here are some cool places to go snowshoeing in Big Sky, Montana:
Big Sky Resort - Big Sky Resort offers guided snowshoe tours on Moose Tracks trail. Book your adventure with Big Sky Basecamp at the Mountain Village base or online. You can also explore the trails near Moonlight Basin.
Lone Mountain Ranch - Lone Mountain Ranch has 30 km of snowshoe trails that are separate from their nordic trails. They can be enjoyed with or without a guide. Check in with LMR for more information.
Big Sky Community Trails - The Big Sky Community Corporation has a map of easy access trails where you can go snowshoeing in Big Sky. Check out Hummocks, Uplands, Ousel Falls, or discover new ones on their free trail map.
National Forest and National Park Trails - There are hundreds of miles of trails in and around the mountains of Big Sky. If you want to get a little farther away, check out a trail in Yellowstone or in the Gallatin National Forest. Beehive Basin, Dudley Creek, Porcupine Creek, and Yellow Mule are always popular snowshoe adventures. As you venture into the mountains, you'll need to practice safe backcountry travel and be aware of avalanche hazards.

No matter where you go snowshoeing in Big Sky, you'll be amazed at what you can see - snowflakes glistening in the Montana sun, snowshoe hare and elk tracks in pristine snow, and stunning views of the Spanish Peaks are typical of every outing. Snowshoeing is a great way to experience Montana in winter.
Snowshoeing is a cool and affordable winter alternative to downhill sports like skiing or snowboarding. Give it a try today - you might just get hooked.
See Also: