Not many people associate Big Sky Resort with endless amounts of perfectly groomed ski runs. Big Sky is typically known for its big mountain terrain, but when you have 5800 acres of skiable terrain, you have more than enough of everything - including fun groomed runs (or pistes, as our European friends call them).

Mikkel Bigandt | Shutterstock
Whether you're making carved turns, working on technique, or skiing with the kids, there's something about skiing or riding a freshly groomed run that's super fun. Perfect corduroy flowing down the fall line is a special treat for skiers and riders of any level.
Discover The Best Ski Runs For Beginners At Big Sky Resort
Big Sky Resort has a fleet of snowcats that groom the runs throughout the night, leaving a perfect blanket of corduroy tracks meandering over the resort. Look up at the resort after dark and you might just see the headlights of a snowcat hard at work on your favorite run.
Hop on first chair and you'll notice that the slopes are picture perfect in the AM sunlight. It's better to get an early start if you want to enjoy fresh tracks on groomed ski runs at Big Sky Resort. But if you sleep in, don't worry - those groomed runs stay nice and smooth all day long.
Here are some of our favorite groomed ski runs at Big Sky Resort: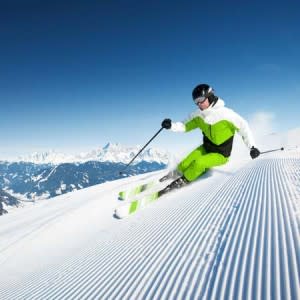 IM_photo | Shutterstock
Green Runs
Blue Runs
Ponderosa
Sunlight
Icehouse
Meriwether
Tippy's
Elk Park Ridge
Calamity Jane
Upper and Lower Morning Star
Big Sky cycles through which runs they groom every day. Be sure to check out Big Sky Resort's Daily Run Status page to find out what runs are groomed before you hit the slopes. Alternatively you can grab a daily grooming report from the Mountain Sports School or Mountain Services. Or you can use the Big Sky Mobile App on iOS and Android to get the latest info while on the go (this also works great for checking on the status of Big Sky's chairlifts!).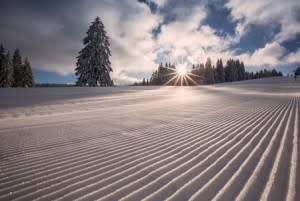 Alex Emanuel Koch | Shutterstock
One thing about groomed ski runs at Big Sky that's important to remember - Big Sky typically does not groom Black Diamond runs. Almost all groomed runs at Big Sky Resort are Greens and Blues. So if you're hunting for the one groomed black run out there, it might be hard to find.
FYI - Big Sky's Beginner and Intermediate terrain consists of 2,295 acres - that's larger than a lot of entire ski areas!
Download the Big Sky Resort Trail Map so you can learn the runs before you get here. If you haven't already planned your trip, take advantage of Visit Big Sky to get some ideas of what to do and where to stay.
The snow is great! See you soon!
See Also: