Do you know how to ride a bike?
Then you need to try fat biking. Outside Online called fat bikes "the hottest trend in cycling." Fat bikes are revolutionizing the biking industry and you need to give one a try. Big Sky, Montana is the perfect place to take one for a spin.
The Mountain Biking In Big Sky Is World Class
Fat biking in Big Sky, Montana is an absolute blast. If you've never seen a fat bike in action, you'll probably scratch your head and wonder in the world it is! Fat bikes come with over-sized tires with lower air pressure that can handle snow, sand, mud, dirt, and anything else you'll throw in its path. It's kind of like a monster truck because it will go just about anywhere.
Everyone needs to try fat biking. Here are 5 great reasons to try fat biking in Big Sky:
Bike Season Really Does Last 12 Months - Fat bikes will ride on snowy trails - meaning that you can get outside for a ride in any type of weather in any season. Don't be a couch potato, be a fat biker.

Riding Fat Bikes | Photo: Lone Mountain Ranch
Explore New Places On A Fat Bike - Since fat bikes charge over uneven terrain, offer excellent traction, and improve flotation you can ride your bike to new places. There are some spots that traditional mountain bikes just can't travel, but with a fat bike there are so many more options - sandy deserts, icy roads, snow covered trails, muddy fields, etc. With a fat bike, you can choose your own adventure.
Fun For Everyone - Fat biking is good old fashioned fun. Anyone who can ride a bike can also ride a fat bike. Grab a bike and a crew of friends and go for a ride. It's a great way to get outside and socialize.
Try Something New - When was the last time you tried something new? Whether you've been missing "bike season" or you just need a new way to recreate in Big Sky's backyard, a fat bike will make you smile.
Get A Workout - Fat biking is a great workout. If you want to get in shape a fat bike will help you achieve your goals.
Fat biking is one of the fastest growing niches in the cycling industry and once you try it you'll see why. This fun sport is a hoot, so please try fat biking in Big Sky. You won't regret it.
The United States Forest Service only allows fat bikes on certain trails in the Gallatin National Forest. Stop by Gallatin Alpine Sports or other local outdoor gear shops to chat with their knowledgeable staff about fat biking. These Big Sky locals can tell you everything you need to know about fat biking in Big Sky. Find out about the best fat bikes on the market or discover the coolest trails for fat biking in Big Sky Country.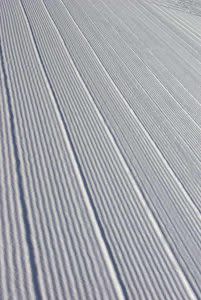 Perfectly Groomed Snow | Photo: Glennis Indreland
If you like having fun, try fat biking in Big Sky. If fun isn't really your thing, then you definitely won't like fat biking either.
Please ride responsibly.
See Also: