When you roll into Big Sky, the first thing that's going to blow your mind is Lone Mountain.
Standing proud at 11,166' in the middle of the Madison Range, it's hard to imagine that a 15-passenger tram will whisk you and your skis to the summit. The rocky faces and massive terrain are unlike any terrain you'll find at any other resort in North America. This place is called the Biggest Skiing In America for a reason.
In case you didn't realize, Big Sky is big. The in-bounds terrain includes 5800 acres with over 300 named runs on 4 connected mountains. It's going to take a little while for you to learn your way around. Unfortunately, that learning curve is a necessary evil, unless you book a guide at Big Sky Resort to show you around.
Are You Ready To Explore Big Sky's Big Mountain Terrain?
Big Sky Resort's guide program is an inbounds program that caters to skiers and riders who are intermediate, advanced, or expert. It's the ideal product for anyone who wants to learn their way around the resort or for small groups who want to explore Big Sky's big mountain environment. Whether you're keen to cruise or want to push your limits, it's a smart idea to book a guide at Big Sky Resort.
Below we'll show you 5 good reasons why you need to book a guide at Big Sky Resort: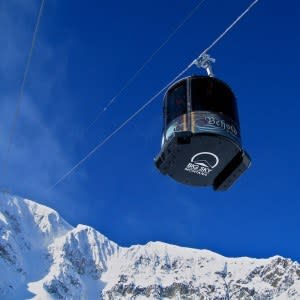 The Lone Peak Tram
Guides Know The Mountain - All of Big Sky's guides have been skiing or riding at Big Sky for multiple seasons. After hundreds of days of riding the lifts, they know the mountain like the back of their hand.
Guides Know Where To Find The Best Snow - Snow conditions are constantly changing. Since the guides ski and ride the resort on a daily basis, they know where to sniff out the best and the safest snow.
Guides Help You Safely Access Terrain - A guide's #1 priority is your personal safety. By using logical terrain progressions and proper skills assessment, the guides will be able to show you the best spots on the mountain. Booking a guide does not guarantee that you'll be able to ski certain signature ski lines, but it does mean that you'll explore Big Sky Resort.
Guides Provide Tips And Tricks To Coach You To Success - All of Big Sky Resort's guides are fully certified ski and snowboard instructors who will happily provide tips to step up your skiing and riding skills or provide tactics for you to safely ski bigger terrain.
Guides Enhance The Overall Big Sky Experience - Since all of the guides are long time Big Sky enthusiasts they can easily show you around the hill, but they are also more than happy to make recommendations on just about anything in Big Sky.
All of the in-bounds guides at Big Sky Resort are fully certified PSIA/AASI ski and snowboard instructors with at least an Avalanche Level 1 certification. But what makes this group truly unique is that they have been skiing and riding at Big Sky for years.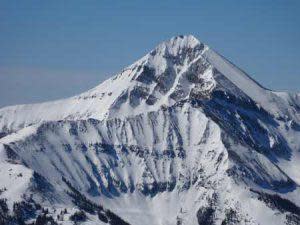 Big Sky Resort | Photo: D. Lennon
Book a guide at Big Sky Resort and they will customize the day based on your goals and select terrain based on your skills and current conditions. The guide program also provides the necessary avalanche gear for guests who are keen to access terrain like the North Summit Snowfield, the Big Couloir, or the Headwaters.
11 Simple Ways To Stay Safe While Skiing This Winter
Learn more about Big Sky's Mountain Guide Service at BigSkyResort.com. Guides at Big Sky Resort can be booked for a half day or full day out of the Mountain Village or the Madison Base. Call the Big Sky Mountain Sports School to book a guide at Big Sky Resort right now. One day with one of these pros will entirely change the way you see Big Sky.
Are you ready to book a guide at Big Sky Resort? It's the best way to play.
See Also: