With mountains in every direction, there are endless opportunities for outdoor recreation in Big Sky Country.
Whether you want to go fishing, hiking, biking, snowshoeing, horseback riding, trail running, backcountry skiing, climbing, snowmobiling or backpacking, you're going to need to find a place to access Big Sky's backyard.
What you're looking for are trailheads - the spots where the trails begin. And there are an abundance of trailheads in Big Sky Country. The trails that lead into the Gallatin and Madison Ranges near Big Sky will take you to amazing places. These trails weave through dense forests and wildflower-filled meadows. They'll take you to wind swept ridges and pristine valleys. Keep going and you'll find crystal clear alpine lakes, alpine cirques, and rugged peaks. It's a breathtaking and wild area.
11 Alpine Lakes That Are Well Worth The Hike
The trailheads near Big Sky are the best access points into the Gallatin National Forest, Yellowstone National Park, and/or the Lee Metcalf Wilderness. This is Big Sky's backyard and it's a pretty special place. Please treat it with respect.
Below we've compiled a quick list of trailheads near Big Sky. It's far from a comprehensive list, but it does highlight locations where you can easily start your next backcountry adventure.
Big Sky/Highway 64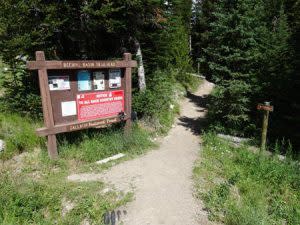 Beehive Basin Trailhead | Photo: D. Lennon
Beehive Basin TH
North Fork TH
Ousel Falls TH
Uplands/Hummocks TH
Gallatin Canyon - North of Big Sky
Dudley Creek TH
Deer Creek TH
Hidden Lake TH
Upper Portal Creek TH
Swan Creek TH
Lava Lake TH
Hellroaring Creek TH
Garnet Mountain/Storm Castle Creek TH
Indian Creek TH
Spanish Creek TH
Gallatin Canyon - South Of Big Sky
Porcupine Creek TH
Buck Ridge TH
Elkhorn TH
Cinnamon TH
Wilson Draw TH
Buffalo Horn TH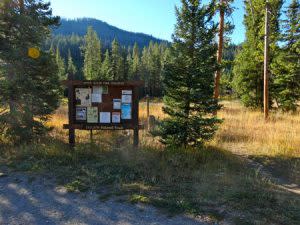 Upper Taylor Fork TH | Photo: D. Lennon
Sage Creek TH
Teepee Creek TH
Dailey Creek TH
Black Butte TH
Specimen Creek TH
Bacon Rind TH
Fawn Pass TH
Bighorn TH
Taylor Fork
Upper Wapiti TH
Lower Wapiti TH
Eldridge Creek TH
Albino Lake TH
Taylor Fork TH
Cache Creek TH
Beaver Creek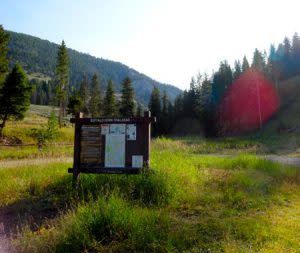 Buffalo Horn TH | Photo: D. Lennon
Potamogeton TH
Sentinel Creek TH
Red Cub TH
West Fork Beaver Creek TH
5 Popular Trails For Winter Hiking In Big Sky, Montana
That's a lot of trailheads near Big Sky, right? Typically the trailheads near Big Sky provide an area to park and post an information sign. Be sure to read the sign as it will have important information about any rules for the area, leave no trace principles, bears, hazards, or other pertinent info. Remember that trailheads will take you to amazing places.
For a good overview of the Big Sky Area, purchase the Big Sky Area map from Beartooth Publishing at any local outdoor shop. If need some mountain inspiration, pick up a local outdoor guidebook to point you in the right direction.
If you share your adventures on social media, please use #visitbigsky !
See Also: The Mountain Ranges Of Big Sky Country