Nestled in the Madison Range of SW Montana, Big Sky provides everything you need for the perfect vacation. Our little mountain town delivers world class skiing, fishing, hiking, biking, and more.
Whether you're looking for adventure and outdoor recreation or you're keen to kick back and relax, Big Sky needs to be your destination of choice.
The one thing that everyone needs when they visit Big Sky is a place to stay. Before you just call the first hotel that pops up in Google, we encourage you to explore all of the Big Sky lodging options. There's a wide selection of options that will meet the demands every traveler and every budget.
Discover Big Sky's VRBO Options
In Big Sky, you can find authentic dude ranches, budget friendly hotels, high-end ski-in/ski-out resorts, quaint riverside lodges, RV friendly campgrounds, scenic mansions in private clubs, remote forest service cabins, luxury tents, and picture perfect vacation rentals. Whatever you're looking for, you can find it in Big Sky, Montana.
For those of you who are new to Big Sky, we've divided up our list of Big Sky lodging options into three zones: Canyon, Meadow, and Mountain. Wherever you choose to stay in Big Sky, Montana, you'll enjoy it.
Below you'll find a list of Big Sky lodging options. Click on a few links, read the reviews, and do your research. You're bound to find the perfect place for you and your crew: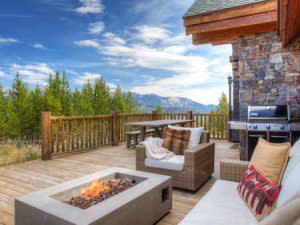 Vacation Rental | Photo: Big Sky Vacation Rentals
Big Sky Lodging In The Canyon
Big Sky Lodging In The Meadow
Big Sky Lodging On The Mountain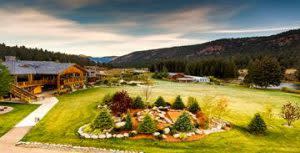 Rainbow Ranch Lodge
If you're looking for something specific, we highly recommend that you contact one of the many vacation rental companies that operate in Big Sky. If you're keen to "rough it," check out the numerous campgrounds in the Gallatin Canyon or book a remote forest service cabin. Unfortunately, car camping is highly discouraged in the Big Sky Community, so please find a more comfortable place to stay in the list above.
One last piece of advice: Book your Big Sky lodging well in advance. As you can understand, Big Sky is a popular destination, and it does get busy during certain events like President's Weekend and PBR for example. If you need any help planning your trip to Big Sky, check out our site: VisitBigSky.com. It's the ideal place to find all of the Big Sky info you need to create the trip of a lifetime.
Hope to see you soon!
See Also: