If you enjoy beer, you're going to love Montana. It seems like every town, both big and small, has a brewery or two. In fact, Montana may have some of the best beer in the country. It could be because of the pure water, the access to fresh hops, locally grown wheat and barley, or just talented brew-masters. Whatever the reason, the beer here is refreshing and delicious.
There's something special about filling up a growler or sipping a pint after a mind blowing hike through the mountains of Montana, a chest-deep powder day at Big Sky Resort, or a National Park road trip. Whether you like Scotch Ales, IPAs, Porters, Lagers, Ambers, Pale Ales, or something different, the vast selection of Montana Breweries have got you covered.
Are you keen to explore Montana breweries and drink Montana beer? Below you'll find a list of Montana Breweries and their location.
Let's start with our favorite Montana breweries. The two located in Big Sky:
Here are the rest of the Montana breweries: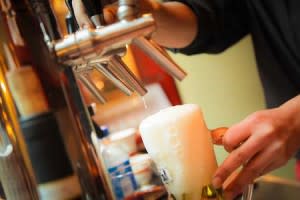 The craft beer revolution has changed the way that people enjoy beer. In fact, we've met lots of people who plan their vacations around visiting world-class breweries. That's why you should definitely Check out The Montana Brewers Association Trail Map online or download a PDF of the map here. It shows all of the breweries listed above.
Many of the Montana breweries market their brews locally, regionally, and nationally. We certainly have our favorites and we know that you'll find plenty that you enjoy too.
Hope you're thirsty!
Fun Facts about Montana and Beer:
Gilbert brewing, formed in 1863, was the first brewery in Montana.
Montana was first state to repeal Prohibition enforcement in 1926.
According to BrewersAssociation.org, Montana has 6.5 breweries per capita. That ranks 4th in the US.
Montana breweries employ over 500 employees and have an economic impact of over $60 million annually. (MontanaBrewers.org)
See Also: