Did you know that you don't have to be an extreme skier to stand at 11,166' on the summit of Big Sky Resort's Lone Peak? It's true. As long as you can ski a groomed blue run, you can take a scenic ride on the Lone Peak Tram, where you can enjoy the views of a lifetime.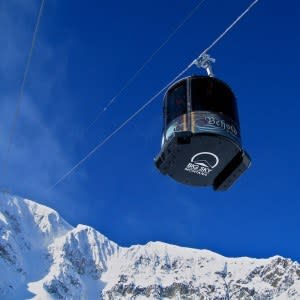 The Lone Peak Tram
The Lone Peak Tram transports skiers and riders to some of Big Sky's more extreme terrain. The easiest run from the top is Liberty Bowl - a steep black diamond run that seems to go on forever. If that's not within your skiing or riding ability, have no fear.
Anyone with a ski pass for the day who can ski a groomed blue run can also be a foot passenger on a scenic tram ride to the top of one of the world's most iconic ski resorts. In fact you should definitely make it a point of getting to the top of Lone Peak during your trip to Big Sky - just don't forget your camera.
All you have to do is ride the Lone Peak Triple chair and ski down to the Lone Peak Tram. Leave your skis or boards in the complimentary ski racks and jump in line. The tram holds 15 people at a time so you may have to wait in line for a few minutes - just remember that it's still a shorter line than you'll experience at any other ski resort.
When it's your turn, pack in and get cozy with your neighbor. If you're by the window, try to spot a mountain goat or a skier in the Big Couloir. Before you know it, you'll be on top of Lone Mountain.
From the summit it seems like you can see forever. You can see three different states (MT, ID, WY), two national parks (Yellowstone and Grand Teton), countless mountain ranges (Madison, Gallatin, Beartooths, Absarokas, Bridgers, Tobacco Roots, and more), and dozens of prominent peaks (Gallatin, Wilson, Cedar, Fan, Beehive, and more). It's jaw dropping.
Without skis or boards, the only way back down is via the Tram. When you're ready, a helpful Big Sky Resort Tram Operator will help you load the Tram and it will whisk you back to the bottom.

From the bottom of the tram, the easiest way down is a groomed blue run called Upper Morningstar that takes you back to the base of the Lone Peak Triple chair. That's all there is to it.
If you can ski a groomed blue run, you can take a scenic ride and experience both the Lone Peak tram and the views from the top of Lone Mountain at 11,166'.
Here's one last helpful hint: The Lone Peak Tram closes to skiers and riders before the end of the ski day, but it's open for scenic foot passengers until the very end of the day. If you go around 3 or 3:30 in the afternoon, you can avoid the line and maximize your ski day.
Enjoy the views! Be sure to add a #visitbigsky if you post your summit shots on social media!