Look outside. Does it seem a bit hazy? Is there a faint smell of smoke in the air? Every summer, usually in August and September, the delicate environment of the mountain west is at an increased risk of wildfires. Right now, there's smoke in the air in Big Sky Country. It's everyone's responsibility to be aware of the wildfire situation. Please be fire safe and fire smart at all times.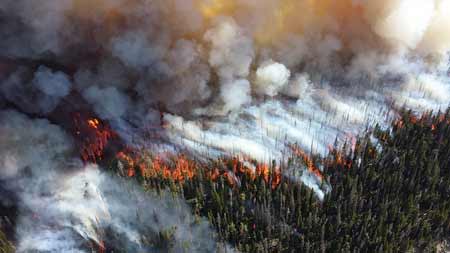 Forest Fire Burning | Pixabay Image
Dry conditions, droughts, and the warm temperatures of summer create a potentially dangerous situation that is prime for combustion. The wild lands and the vast mountain environment of the Greater Yellowstone Ecosystem that surrounds Big Sky is filled with fuels like dead trees and dry grasses. These natural fuels can ignite quickly and unexpectedly. Don't do anything that would cause a human triggered fire.
Common causes of wildfires include lighting strikes and humans. A cigarette butt tossed out of a car window, a campfire not put out properly, a leftover firework from the 4th of July shot off in random celebration, or even a lone spark caused by a bike pedal hitting a rock can cause a forest fire. When you're in Big Sky country during prime fire season, it's mandatory that you're aware of the current fire danger.
A single active fire can burn out of control for months. With a bit of wind and no rain, one fire can consume tens of thousands of acres. Millions of acres are burned every year. Government agencies invest billions into containing wildfires. Crews of firefighters, hotshots, smokejumpers, and pilots work around the clock to contain these destructive flames before they cause damage to communities, structures, or humans.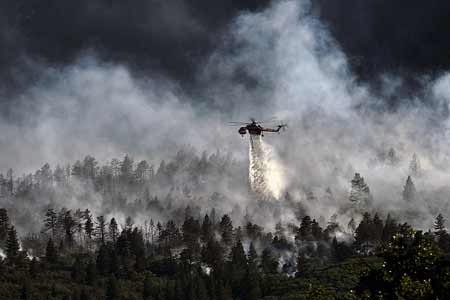 Helicopter Dropping Water On Forest Fire | Pixabay Image
The smoke from these fires can drift for hundreds of miles. It will often fill the air of Big Sky Country with dense smoke that affects air quality and impacts outdoor recreation.
When you're in Big Sky Country, or anywhere in the mountain west, it's important to be aware of the weather and the current fire hazard. Pay attention to air quality warnings, fire danger ratings, and fire weather conditions. If you witness a wildfire, protect yourself and notify authorities.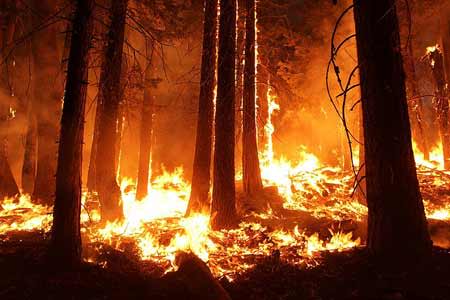 Wildfire | Pixabay Image
Below you'll find some helpful links to help you learn more about wildfires near Big Sky including maps of active fires, statistics, news, resources, air quality warnings, red flag warnings, and more:
Always be aware of the fire hazard in our mountainous backyard. Be responsible while you're in Big Sky country to ensure that no human triggered forest fires start near our mountain town. Be fire safe and fire smart.