Skiers, snowboarders, snowmobilers, snowshoers, ice climbers, fat bikers, and cross country skiers love to play in the mountains of SW Montana.
During the winter months, Big Sky Country provides outdoor enthusiasts with one of the coolest mountain playgrounds in the entire world. If you plan to enjoy it, please do so safely.
When you choose to recreate in the backcountry during the winter, you are responsible for your own actions. The proper knowledge, skills, and experience can help you stay safe and avoid hazards while having fun in avalanche terrain. Besides investing in the proper gear, reading the Gallatin National Forest Avalanche Center's daily avalanche advisory, and reading avalanche books, you should take an avalanche course.
Avalanche courses are taught by snow professionals who are keen to share their knowledge of avalanches with you in both classroom and field sessions. A proper avalanche course is typically a few days or a weekend long and will dive into topics like avalanche rescues, beacon searches, snow science, mountain hazards, and more.
Taking an avalanche course in Big Sky Country is a smart investment. The things that you learn might just save your life. Below you'll find a list that you can use as a starting point to plan your backcountry education this winter. Sign up as early as possible before these courses fill up.
If you plan to take an avalanche course in SW Montana this winter, explore the different avalanche education options below:

American Avalanche Institute (AAI) - AAI offers numerous avalanche education options in the Mountain West. These are the ones based in Bozeman, MT.
Big Sky Backcountry Guides/Bell Lake Yurt
Gallatin National Forest Avalanche Center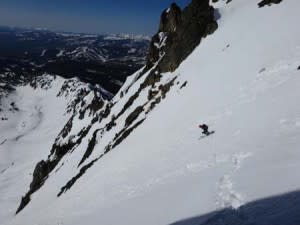 Photo: D. Lennon
As you can see, there are plenty of avalanche courses in SW Montana. Whether you take a weekend course close to home or opt for an avalanche education road trip, it's well worth the time and the money.
For the most up-to-date information and full details on the avalanche courses in SW Montana, please contact the above companies directly. If you're new to the backcountry, many of these businesses offer courses, camps, refreshers, guided experiences, yurt & hut trips, and other offerings.
Whether you play in the Gallatins, Madisons, Tobacco Roots, Absarokas, Beartooths, Yellowstone National Park, Centennials, Crazies, or beyond, have fun and stay safe this winter season!
See Also: