The skiing and snowboarding at Big Sky Resort is some of the best in the world. Whether you're here for a week, a season, or even a lifetime, Big Sky's terrain will keep any level of skier or rider grinning from ear-to-ear. The lack of crowds, the world-class terrain, the great snowpack, and the mountain town of Big Sky is the definition of what every skier and rider wants from their ski trip.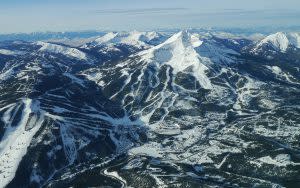 Aerial of Big Sky | Glenniss Indreland
One of the great things about Big Sky is that the terrain appeals to everyone. From the bunny hill novice to the aspiring pro and everyone in between, there are always fun runs to explore. Big Sky has it all. Whether you love groomers, trees, steeps, bumps, park, hikes, chutes, couloirs, or snowfields, you'll find plenty of it on Big Sky's 5800 acres.
People often want to know what the best ski runs in Big Sky are. Well that's a tough question. Everyone enjoys a different type of skiing so everyone will have a different opinion. It all comes down to your ability level, the terrain that you like to ski, and the current snow conditions. As you can imagine there's no official list of the best ski runs in Big Sky, but there are certainly more than a few lines that are worth checking out.
Below you'll find an unofficial list of the best ski runs in Big Sky. Add these fun runs to your list.

Lone Mountain at Big Sky Resort | Photo by D. Lennon
Green Beginner Runs: Mr. K, Sacagawea, Cinnabar, Deep South
Blue Intermediate Runs: Ski Time, Africa, Lookout Ridge, White Witch, Lizette, Whiskey, Silverknife, Elk Park
Black Diamond Advanced Runs: Liberty Bowl, Bavarian Forest, Moonlight, Country Club, Midnight, Blue Room, South Wall. The Bowl
Double Black Diamond Expert Runs: Big Couloir, North Summit Snowfield, Headwaters Hike, A to Z Chutes, Dictators, Big Rock Tongue
If you're really looking for the best skiing in Big Sky, hire a guide, book an instructor, or start a conversation on a chairlift with a local. While these Big Sky fanatics may not share their secret stashes, they'll certainly point you towards some fun runs. If you're more of a DIY type, check out the Big Sky Resort Trail Map and see what you can find - just try not to get in over your head!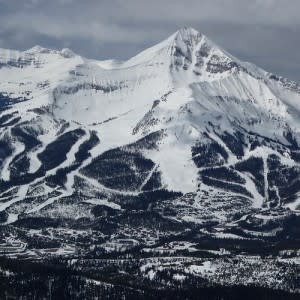 Lone Mountain
For people unfamiliar with Big Sky, it can be tough to imagine how incredible this mountain really is. The best way to describe it is: if you fell asleep and dreamed about skiing, you're probably picturing Big Sky, Montana. This place is the real deal. Grab your gear and explore the Biggest Skiing In America. Then you can decide what the best ski runs in Big Sky really are.
See Also: