In 1992, twenty bull riders founded The Professional Bull Riders (PBR).
Since that date, the PBR has grown rapidly and has been declared "the fastest growing sport in America" (PBR.com). Every year, the PBR hosts hundreds of events around the world. At each high-energy event, the best cowboys in the world ride bucking bulls in front of cheering crowds. If you've never been to a PBR event, you need to put it on your bucket list.
Since 2011, the Big Sky PBR has been a staple event in Big Sky, Montana. After many exciting years, Big Sky is considered to be one of the best bull riding venues on the entire PBR tour! ExploreBigSky.com, writes that it is the "top-paying touring pro bull riding stop with prize and sponsorship money totaling nearly $80,000 for the 40 cowboys who competed."
According to BigSkyPBR.com, as of 2016, the Big Sky PBR is a 4-time PBR Event Of The Year. In 2017, The Big Sky PBR was nominated as a finalist for the 2017 Montana Tourism Event Of The Year! As you can see, this family-friendly event should NOT be missed.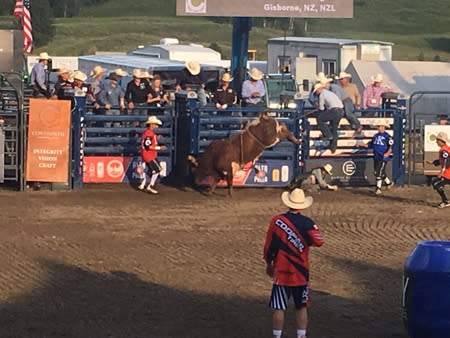 Big Sky PBR 2017 | Photo: D.Lennon
The Big Sky PBR continues to be the event of the year in Big Sky and this year is no exception. Last year's PBR saw a record breaking attendance of 15,000 people over the course of the event.
For full details on this amazing summer event in Big Sky, take a a look at the 2017 Big Sky PBR program. We have a feeling that this year is going to be even more exciting!
Ask anyone who's attended the Big Sky PBR, and they'll all highly recommend this event. Whether you're part of the beer crowd, the whiskey crowd, or the Pinot crowd, you're going to love the Big Sky PBR. Watching burly bull riders riding bucking bulls in the shadow of Lone Peak is a thrilling experience. We highly encourage you to book your trip to Big Sky to coincide with Big Sky's Biggest Week. You won't regret it.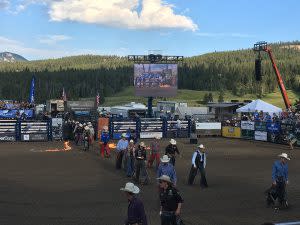 Big Sky PBR 2017 | Photo: D.Lennon
Add in the weekly Big Sky Farmer's Market and Music In The Mountains events plus world class outdoor recreation and superb Montana weather and you have a weekend that you'll remember forever.
If you're planning to attend this year's PBR, mark your calendars and book your tickets before it sells out.
Are you ready to watch "America's original extreme sport" right here in Big Sky, Montana? See you soon!
See Also: