Nicknamed The Treasure State, Montana is the fourth largest state in the US and is home to just over 1 million people. Tucked away in the Madison Range of Southwest Montana is a hidden gem of a mountain town called Big Sky. Definitely put Big Sky on your destination bucket list for these amazing reasons.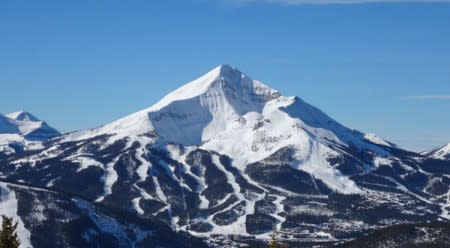 Lone Mountain at Big Sky Resort | Photo by D. Lennon
Here are the top 10 reasons to visit Big Sky, Montana:
Outdoor Paradise - Do you love the great outdoors? Want to go star gazing, bird watching, wildlife spotting, peak bagging, or wildflower spotting? Maybe you just want to soak in the Montana weather and breathe fresh mountain air? Big Sky has got you covered.
Mountains - Everywhere you look you get to see magnificent mountains. Head up to the top of the Lone Peak tram and it's like you're in an endless sea of mountain ranges that stretch far beyond the horizon.
Pristine Environment - Big Sky's closest neighbors are the Gallatin National Forest, Yellowstone National Park, and the Lee Metcalf Wilderness. It's wild terrain that is untouched by human development.


Storm Castle Peak as seen from the Gallatin Riverside Trail | Photo: A Mountain Journey

Family Friendly - Big Sky is a family friendly town. There are things to do for all ages. Kids, adults, and grandparents will all love it here.
Few Crowds - While most people flock to the busy mountain towns of Colorado, California, and Utah, Big Sky sees far less traffic. With less people, the mountain experience is better than you can even imagine.
National Parks - The NW boundary for Yellowstone National Park is less than 15 miles south of town. Grand Teton and Glacier National Parks are within a day's drive. If you're looking for the national park experience, Big Sky is the base camp for you.
Adventure Sports - Skiing, biking, climbing, zip lining, camping, backpacking, hiking, fishing, trail running, dog sledding, hunting, cross country skiing, snowboarding, snowmobiling, and just about anything else you want to do is easily accessible in Big Sky's backyard.
Unplug and Disconnect - It's easy to get caught up in the hustle and bustle of the "real" world when you're at home. Come to Big Sky and go play. Disconnect from the stresses of life and enjoy the Big Sky lifestyle.
Events - It seems like there is always something going on in Big Sky - Music in the Mountains, PBR, Farmers Market, Big Sky Big Grass, The Rut, Classical Music Festival, MountainFilm Festival, Fly Fishing Festival, and the list keeps going!
Sunset At Music In The Mountains | Photo: Arts Council of Big Sky
Laid Back Atmosphere - Big Sky is the perfect place for rest and relaxation. Dangle your toes in the flowing Gallatin, sip a beer on the porch at Everett's, or enjoy a five-star massage at a world class resort. Big Sky's laid back atmosphere is attractive to people from all walks of life.
These are the top 10 reasons to visit Big Sky, Montana, but there are so many other reasons to come here too. Come, play, and explore. There's a lifetime of fun in this mountain town. Come and see this magical place for yourself. You'll love it here.

Kids Horseback Riding | Photo: Lone Mountain Ranch
See Also: