BIG SKY TODAY
Big Sky, Montana is a unique, mountain resort community just as envisioned back in the late 1960s by its founder, pioneering newscaster and Montana native, Chet Huntley.
Born a seasonal, destination ski resort, today Big Sky is home to Big Sky Resort's Biggest Skiing in America in winter and acts as a Gateway Community to Yellowstone National Park in summer. Far-removed from any urban center, Big Sky's location at the junction of U.S. Hwy 191 and MT Hwy 64 (Lone Mountain Trail) in south-central Montana, is equidistant 45 miles south of Bozeman Yellowstone International Airport (BZN) through the scenic Gallatin Canyon and north of the west entrance to Yellowstone, America's First National Park. Big Sky itself is situated at the base of iconic Lone Peak, elevation 11,166 feet, and encompasses the "Canyon," "Meadow" and "Mountain" areas, each with its own distinct culture and personality.
BUSINESS IN BIG SKY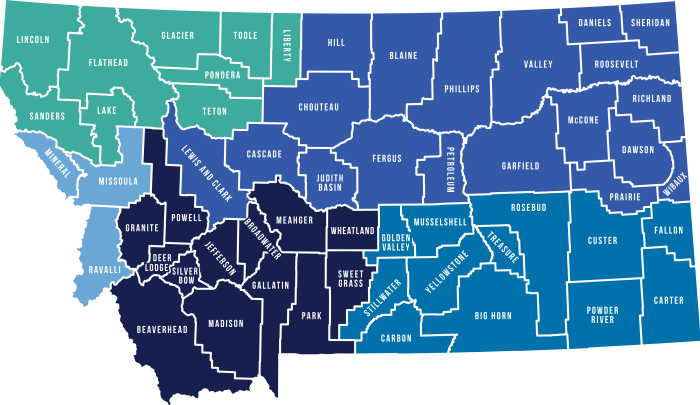 Big Sky however, is not a place where it's business as usual.  Being an unincorporated, census-designated place (CDP) straddling two counties – Gallatin and Madison – with seven special districts, 100s of Home Owners Associations (HOAs), a myriad of non-profits, and engaged citizens all contributing to its local governance, creates a complex local governance operating framework.  In addition, business owners define success differently here (usually in the number of days spent on the mountain) and the mountain time mindset and motivations of their employees more than not, mirror that.
Tourism, rooted in Outdoor Recreation, is the #1 industry driving Big Sky's growth and contributing substantially to the $3B statewide Tourism economy. Not only is outdoor recreation the reason why people visit here, but it is why they eventually choose to move here. Consequently, Construction/Development and Real Estate are additional stronghold industries driving the Big Sky economy.  Home to approximately 3,000 full-time residents, along with a significant part-time resident population and thriving visitation, Big Sky plays host to upwards of 15,000 people during peak periods throughout the year. This translates to roughly 4,200 jobs, which are held by 3,000 employees, due to the significant seasonality of the job market.* The lack of affordable housing in Big Sky contributes to 50% of the workforce commuting in on a daily basis.  Both of these impact recruitment efforts.
Expansion of Big Sky's three private residential clubs owned by Cross Harbor Capital Partners – Yellowstone Club, Spanish Peaks Mountain Club and Moonlight Basin – where mainly part-time residents choose Big Sky, due to the outdoor recreational lifestyle and small community feel it provides them, is driving the largest construction project in the history of the state of Montana and translating to significant spikes in real estate sales.
Big Sky is an economic engine fueling Montana's economy.  It currently ranks in the top five destinations in Montana Lodging Facility Use Tax revenue collections, with Billings, Bozeman, Missoula, and West Yellowstone. In addition, monies collected through a locally levied 3% Resort Tax have grown XX% since 2012 providing for tourism marketing and management for the destination, as well as key community services and infrastructure improvements spurred by the community's growth.
OUR COMMUNITY. OUR BUSINESS. MAKE IT YOUR COMMUNITY. GROW YOUR BUSINESS.
Invest in the Big Sky Chamber by Joining Today!