Montana is the 4th biggest state in the United States. With an area covering just over 147,000 square miles (94 million acres), it's one of the last best places.
People from around the world visit Montana to escape the hustle and bustle of the real world. They are attracted to the vast forests, towering mountains, stunning lakes, abundant wildlife, impressive national parks, world class rivers, and endless adventure.
Everyone can appreciate the wild lands that spread across Montana and everyone needs to treat those lands with respect too - especially during fire season. Every year, ferocious wildfires ravage the landscape, fill the air with smoke, impact outdoor adventures, threaten homes, and damage businesses. Maybe you've noticed the hazy view or the smell of smoke in Big Sky Country-- this is a sign of fire season in Montana.
Summer Is Wildfire Season In Big Sky Country
Fires are not uncommon in the Western US. On average, fires burn millions of acres every season. Some of these fires are natural and others are caused by humans. When you combine dry, hot weather with wild land filled with fuel and a bit of wind, it's the perfect combination for fires to thrive. Wildfires happens every year and this year is no exception. Just take a look at MT.gov, FireRestrictions.us, InciWeb.NWCG.gov, or FSApps.NWCG.gov to find out about the latest fires in the Treasure State.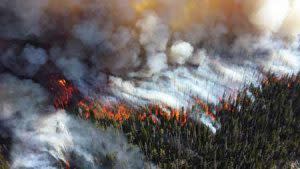 Forest Fire Burning | Pixabay Image
Wildfires are both scary and destructive, but they can also benefit our natural world. For example, fires can provide new habitat, kill disease, refresh the forest floor, and more. Natural fires can be a necessary part of our ecosystem, but they still must be controlled.
Many of the wildfires currently burning across the country were sparked by natural causes, like lightning. Unfortunately, too many of destructive fires scorching the Western US were caused by humans via campfires, fireworks, burning waste, cigarettes, or other methods. This is unacceptable.
If you're in Big Sky Country, it's absolutely imperative that you treat your outdoor playground with respect. Whether you're camping, hiking, hunting, backpacking, or road tripping, here are 10 ways to prevent forest fires in Big Sky Country: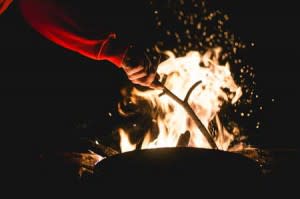 Campfire | Pixabay Image
Check the weather
Respect fire danger signs, warning signs, permit requirements, and bans
Never leave a fire unattended
Always fully extinguish any fire
Follow all rules and regulations when using fireworks
Choose appropriate locations to park vehicles, set up camp, shoot off fireworks, etc.
Educate the people you are with
Be able to extinguish any fire that you start
Do not throw burning/smoking items, like cigarettes, from your vehicle
Alert authorities of any smoke or fire in the area
As Smokey the Bear alway says, "only you can prevent forest fires." Please treat Montana with respect and do everything that you can do in order to prevent forest fires in Montana.
See Also: