Ski boots are the most important piece of ski equipment that you can own. They connect your body to your skis, and ultimately dictate your performance, comfort, and enjoyment of the sport. Buy ski boots this winter. It's a total game changer.
Finding the right ski boot is always a process, but there are several reasons why you need to buy ski boots. When you finally get the right boot on your feet, you'll notice benefits like: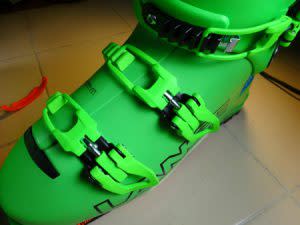 Lange Ski Boot | Photo: D. Lennon
Enhanced Skiing Performance
Increased Comfort
Increased Warmth
Ski boot technology has come a long ways in recent years and it can truly enhance your skiing experience. The key is to find the right boots for you - and that's all about fit. Don't buy ski boots just because they are pretty, you like the brand, or your favorite ski magazine gave them a great review. Instead, work with a professional boot fitter to find the best boot for you.
What To Wear Skiing To Stay Warm And Dry
Luckily, Big Sky is home to some of the best boot fitters in the country. Book an appointment with boot fitting experts at Lone Mountain Sports or Grizzly Outfitters to get the royal boot fitting treatment. Bring the socks that you like to ski in and clear your schedule because setting you up in the right pair of boots takes time.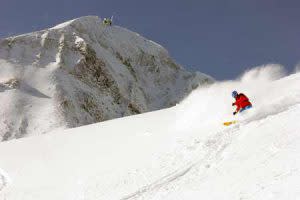 Skiing Below Lone Peak | Photo: Love Street Media
The process typically starts with a question-and-answer session that helps a boot fitter know about your skiing skills and terrain choices. Plan on a few hours or more of trying on boots, getting your feet measured, fitting footbeds, molding liners, identifying pressure points, and making sure your boots fit perfectly. The entire process is highly customizable and it will positively impact your skiing experience.
Boot fitters will work you in the store to make tweaks and adjustments to find tune your alignment and stance. Then they'll send you out skiing. After you ski on the boots for a few hours, you'll have a better understanding of how your boots feel and perform. If need be, head back to the boot fitter for further adjustments. Dialing in a pair of boots takes time, but it's worth it.
Even if you only ski a few weeks a year, owning your own boots is a smart decision. Make ski boots your first investment in your ski setup. It's easy to carry your boots with you on an airplane without incurring additional fees like you do with ski bags.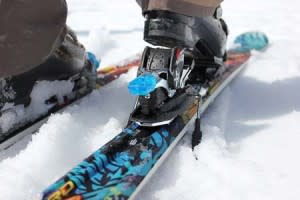 Ready To Go Skiing!
Every skier will benefit from owning their own boots. If you've never owned your own ski boots, you're in for a treat and you'll never want to go back to rental boots. If you're ready for an upgrade, you'll see a big change in your skiing performance.
Buying ski boots is a unique mountain experience. Are you ready to buy ski boots?
See Also: