Winter in Big Sky is prime time to get outdoors and get after it. At the same time, it's also easy to hunker down and lay low. Regardless of how you spend the winter in Big Sky, there are a few things that everyone who lives here or visits needs to do.
Everyone needs to these 3 things this winter in Big Sky:
1. Snowmobile Through Yellowstone National Park
There is something magically unique about venturing into Yellowstone National Park in winter. Hopping on a sled in West Yellowstone and cruising the snow-covered roads of the Park is an experience that everyone needs to experience at least once. Geysers, bison, and snowmobiles create a day that you won't soon forget.

Bison Herd In Yellowstone | Photo: Yellowstone Vacations
2. Ride The Lone Peak Tram
Riding the Lone Peak Tram to the top of Lone Mountain at Big Sky Resort is an eye opening experience. At 11,166', the surrounding views of the Greater Yellowstone Ecosystem blanketed in a white are mind blowing.
Head up on a clear day and you can see clear across Yellowstone National Park - all the way to the Tetons. Wyoming, Montana, and Idaho are all visible amongst a sea of mountains in one of the wildest landscapes in the Lower 48.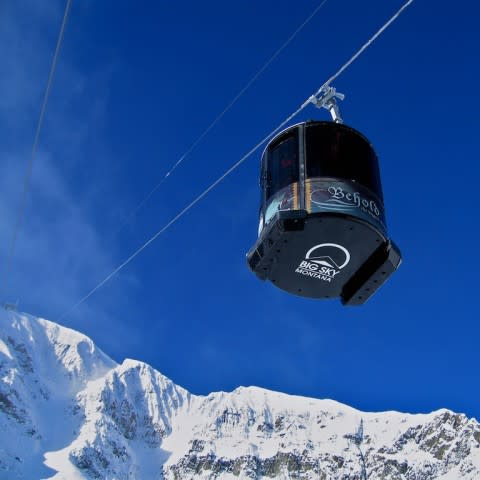 The Lone Peak Tram
Don't get intimidated by the Lone Peak Tram. As long as you can ski a blue groomer, you can ride the tram. Just take the Powder Seeker chair up and ski down to the tram. Grab your poles and leave your skis at the tram base. Then ride to the top and wander around. Local Tip: Go at the end of the day to avoid the Tram Line.
Fly fishing on the Gallatin River in winter is a true treat for anyone who wants a pristine and peaceful Montana experience. Letting fish bite at a fly on a crystal clear cold morning is unreal. The fish are biting all winter long and with a few tips from a local guide, you'll be able to have the experience of a lifetime on one of the best fly fishing rivers in the country. Plus, the chances are good that you won't see another soul all day long.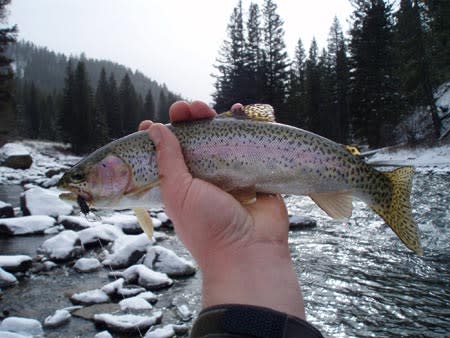 Winter Fly Fishing | Photo: Gallatin River Guides
In our opinion, these are the 3 things that everyone needs to do this winter in Big Sky. Of course there are plenty of other things to do in Big Sky that are totally awesome - cross country skiing, dog sledding, snowmobiling in the Gallatin, winter hiking, backcountry skiing, and a few others immediately come to mind. It's hard to make time for everything.
All of the things in this post pertain to doing things in the great outdoors - and that's what Big Sky is all about. Are you ready to play in our endless backyard? Whatever you choose to do this winter in Big Sky, have fun, be safe, and share your adventures on social with #visitbigsky.
See Also: