Brown Trout | Gallatin River Guides
It's always fishing season here in Big Sky, Montana. Home to some of the world's best trout waters, Big Sky is on every fly fisherman's bucket list. Come and enjoy the pristine waters and healthy trout populations of southwest Montana, but be sure to preserve these magical places for everyone else too.
One way to help conserve Montana's natural ecosystems and healthy trout population is to practice catch and release fishing. Catch and release fishing is the act of catching a fish by traditional means and then safely releasing it back into the river or lake where you caught it. It's a pretty simple concept and when done correctly it can have a hugely positive impact on the fish that we all want to catch.
Learn More About Fishing In Big Sky
As you can imagine it's a traumatic and stressful situation for a fish to go from getting hooked to being released. According to KeepEmWet.org, stress "can cause negative health effects such as diminished ability to avoid predators, reduced reproductive success, and delayed mortality related to disease - even if a fish vigorously swims away."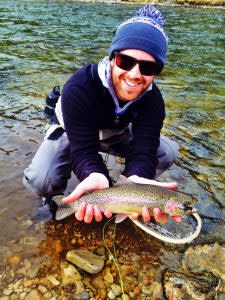 Rainbow Trout | Visit Big Sky
Stress is a factor of many things including species of fish, water temperature, and angler behavior. Fish stress is unavoidable and unfortunately some fish will die from stress no matter what. When anglers practice good catch and release fishing tactics it can help to save a fish's life.
Be kind to a fish and do your best to practice proper catch and release fishing tactics - minimize air exposure, eliminate contact with dry surfaces, reduce handling. The Montana Fish, Wildlife, and Parks released a few catch and release guidelines so that anglers can reduce the amount of stress on the fish that they catch and release.
Here are six tips directly from Montana Fish, Wildlife, and Parks to ensure that you practice proper catch and release fishing techniques:
Land the fish quickly and do not play it to exhaustion.
Wet your hands before handling the fish.
Keep the fish in the water as much as possible where it gills can absorb oxygen.
Minimize the time out of water for photos.
Remove the hook gently. Use of artificial lures, single and barbless hooks can make hook removal faster and easier.
Let the fish recover before release. If the fish is hooked deeply or bleeding, you may have to snip the line at the fish's mouth, or consider keeping it if regulations allow.

Rainbow Trout | Chase Navratil
One of the fish of choice in Big Sky Country is the trout, which is especially susceptible to stress. Yet how the angler fishes, the choice of gear, and how the angler handles the fish can increase survival rates. To learn good practices, it's always wise to talk to a local fly fishing shop or hire a licensed fly fishing guide. Here are a few local resources that you can connect with: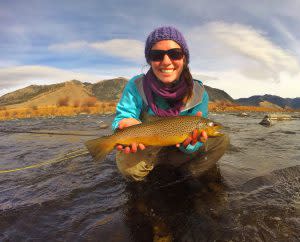 Brown Trout on Madison | Visit Big Sky
Now that you have a few catch and release fishing tips and tactics in your back pocket, are you ready to go fishing in Big Sky?
See Also: