Do you want to try telemark skiing?
This gravity driven sport is one of the best ways to connect with the mountain and flow over the terrain. Try it this winter. It's a blast.
We've all seen a telemark skier flowing down the slopes at Big Sky Resort. Their graceful turns and fluid moves are an effective and efficient way to ski down the hill. Dropping the knee and freeing the heel is a unique way to ski. Keep your eye out for tele-athletes at Big Sky and you'll be impressed.
9 Tips To Make The Most Of A Powder Day At Big Sky Resort
There's a rumor going around that telemark skiing is a dying sport, but that's just plain ridiculous. Telemarking is alive and well. We encourage you to try telemark skiing this winter. You might just find that you like it way more than your traditional alpine ski set up.
Whether you're an expert alpine skier who's unchallenged with the terrain, a local who's bored with the latest high pressure weather system, a curious tourist trying to discover a new sport, or a backcountry enthusiast, telemark skiing is a fantastic choice. Don't believe us? Try telemark skiing this winter and find out for yourself.
Are you ready to try telemark skiing this winter? Here are 8 reasons why you should: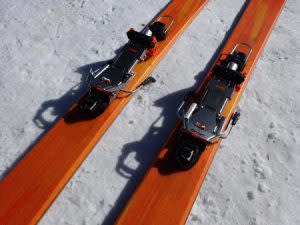 Modern Telemark Bindings | Photo: D. Lennon
Try Something New
Challenge Yourself Regardless Of Snow Conditions Or Terrain
Stay Warm When It's Cold Outside
Enjoy The Mountains In A Totally New Way
Access The Backcountry And The Resort With Telemark Ski Gear
Wear Comfortable Tele Boots
Stay In Shape
Modern Tele Gear Is Releasable
When you master the skills and techniques of telemark skiing, you might not ever lock your heel down again. There is something truly magical about finding your flow state while teleing at Big Sky Resort.
Are You Ready To Explore Big Sky's Big Mountain Terrain?

Lone Mountain at Big Sky Resort | Photo by D. Lennon
Typically people who try telemark skiing won't master this sport in a day. Get ready to step down the terrain and prepare yourself for some awkward days. But remember that there is something cool about starting from square one. Being a total novice at something is a fun way to learn the proper techniques and master a new sport.
If you're keen to try telemark skiing this winter in Big Sky, do it. Rent telemark ski gear at any of Big Sky's local outdoor shops. Then stop by the Big Sky Mountain Sports school and book a lesson.
Try tele. You'll love it.
See Also: