When people think about Big Sky, Montana they immediately picture the iconic Lone Mountain.
At 11,166', Lone Mountain is one of the highest peaks in the Madison Range and easily the most recognizable summit in Big Sky. Since you can see Lone Mountain from all over the region, it draws outdoor enthusiasts from near and far who want to climb the peak.
Lone Mountain is more than just a stunning pile of rocks. It's also home to Big Sky Resort. During the winter season, the Lone Peak Tram whisks skiers and riders to the summit for snowy descents. In the summer, one of the best ways to get the true Lone Mountain experience is on the old heel-toe express.
Did you know that a well established trail meanders its way through the forests and rocks all the way to the top of the peak? From the base, follow Moose Tracks to the top of the Swift Current Chair. From there the trail climbs up through the Bone Crusher Ski Run and then follows the rocky and exposed SE ridge all the way to 11,166'.
For some people, climbing Lone Mountain is a wild adventure and for others it's a typical training day in the mountains. Regardless of the reason you choose to climb Lone Mountain, it's an experience of a lifetime. The views of the Greater Yellowstone Ecosystem are astounding - just don't forget to bring your camera!
Let's take a look at 9 reasons why you should climb Lone Mountain this summer: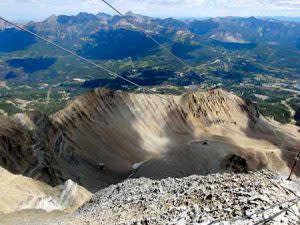 The Spanish Peaks and the Tram | Photo: D. Lennon
Physical and mental challenge
Views from the top are mind-blowing
Experience the size of the mountains
Push your limits
Make friends
Bragging rights
Fun way to spend a day outside
Train for the Rut Race
Because it's there
Everyone has their own reasons for climbing to the top of Lone Mountain. It's an activity that will appeal to both locals and visitors alike. Of course, if climbing is not your thing, don't worry. Anyone can enjoy the views from the top of Lone Mountain when they sign up for Big Sky Resort's Lone Peak Expedition.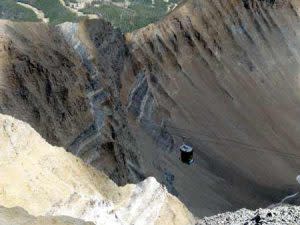 Lone Peak Tram | Photo: D. Lennon
People climb Lone Mountain regularly. Depending on your fitness, it may take a few hours or an entire day. The climb can be done safely with proper mountain knowledge and a bit of common sense.
Before you go, ask around for current conditions, check the weather, and be willing to turn around if the climb pushes your comfort zone. Always bring the gear you need to stay safe (sunscreen, water, bear spray, etc.).
If you climb Lone Mountain this summer, take photos and share them on social media with #visitbigsky. We always love to the adventures people have in Big Sky's backyard!
See Also: