What do you know about cross country skiing? Cross country skiing is one of the best ways to enjoy the great outdoors and stay fit during the snowy months. If you're new to the sport, get ready to have a blast sliding around on snow with your friends, your dog, or just by yourself.
With anything new, there is always lots to learn. In this post, we're going to start with the basics and then give you a few tips that will help you get started. Finally we'll tell you the very best place to learn properly - and it's right here in Big Sky's backyard.
Did you know that there are two main types of cross country skiing? Classic and skate. Classic involves kicking and gliding along in groomed tracks. Skate involves pushing off to propel the skis - like you're on ice skates or roller blades. Both are fun, but both are different too. Most beginners start with classic.
Regardless of which type you choose, you're going to need to master a few basic cross country skiing tips for beginners: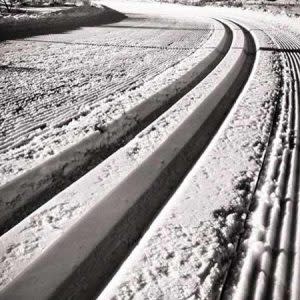 Cross Country Ski Tracks | Photo: Love Street Media
Take A Lesson - It's always smart to take lessons to avoid learning any bad habits.
Choose The Right Gear - Pick the classic or skate skiing gear that's right for you. It's always a good idea to rent gear first.
Dress Appropriately - Wear layers so that you don't overheat while you're exerting yourself.
Check Out The Trails - Start easy and don't get in over your head.
Learn The Rules - Stop in at the nordic resort to ensure that you know the rules and etiquette of the trail system.
Athletic Stance - Stand up tall and flex your ankles to stay over your skis.
Core Strength - Work your core muscles to help with stabilization.
Stay Balanced - Relax your body and focus on active balance throughout the skiing movements.
Pace Yourself - Don't go too fast or you'll wear yourself out. Slow and steady wins the race.
Hopefully these cross country skiing tips for beginners will help you become a better skier. We know that it's nearly impossible to learn everything you need to know from a simple blog post. Instead you need to get on the snow and go for a ski!

Did you know that you can learn cross country skiing tips for beginners right here in Big Sky? In fact, Lone Mountain Ranch may be one of the best places in the entire country to learn how to cross country ski.
37 Things To Do With Kids In Big Sky, Montana
Lone Mountain Ranch was voted the #1 Nordic Ski Resort in North America by Cross Country Skier magazine due to their "phenomenal terrain, dependable snow, incredible guides, and proximity to Big Sky Resort and Yellowstone National Park." Featuring 85 km of groomed trails, Lone Mountain Ranch is the perfect place to improve your cross country skiing skills.
Stop by LMR to rent gear and book a PSIA-certified instructor to help you learn the techniques and tactics that will make you a cross country skiing superstar. They can cater lessons to any ability level for either classic or skate skiing. It's the perfect cross country skiing destination.
Plus, you can book your stay at the ranch and enjoy all of their fabulous activities, dining, and lodging too. It's the perfect vacation!
See Also: