Do want to experience the true Montana lifestyle? Are you keen to take a vacation where you can disconnect and enjoy the life and culture of the American West? Then you need book a trip to stay at a guest ranch near Big Sky.
Staying at a guest ranch is a totally unique and exciting experience. Guest ranches invite people with open arms to come and experience the genuine and authentic traditions of wild Montana. These historic ranches have been around approximately 100 years or more. They are rich with history and run by families and owners who want to preserve and maintain the Montana experience.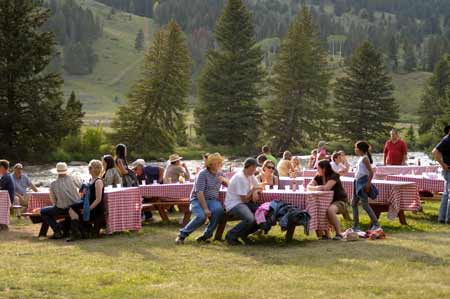 BBQ Dinner | Photo: 320 Ranch
When you stay at a guest ranch near Big Sky, you'll be welcomed into a friendly and vibrant atmosphere. Guest ranches promote a laid back lifestyle where you can reflect on nature and enjoy the great outdoors. It's a fantastic way to escape the "real" world and enjoy the simple things in life.
Whether you're on a hike in the mountains , on a horseback ride or a horse packing trip through the wilderness with an experienced wrangler, fly fishing on the crystal clear streams and rivers of Big Sky Country, enjoying a sleigh ride dinner, or logging some quality time with your family, you're going to love guest ranch life - and so will your kids!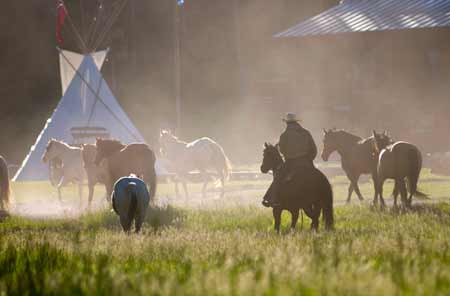 Rounding Up the Horses | Photo: 320 Ranch
Which guest ranch near Big Sky will you stay at first?
The next time you visit Montana, stay at a guest ranch near Big Sky. It's the experience of a lifetime. Many families go once and keep going back every single year because it's so spectacular. If you don't stay at one, visit one for the day and get a taste for why ranches are such an important part of Big Sky life.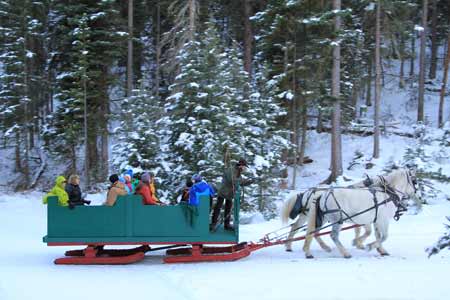 Winter Sleigh Ride | Photo: Lone Mountain Ranch
Are you ready to experience the real Montana?
See Also: