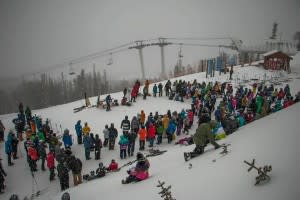 Easter Sunrise Service
Big Sky, Montana is a place where you can disconnect with the "real" world and reconnect with your spirituality. With mountains in every direction, it's easy to find yourself in the natural cathedral of Big Sky Country. Often things just seem to make more sense when you're in the mountains. Or if you'd prefer to follow your faith in a more traditional setting, Big Sky's got options for you to choose from.
If you want to find faith in Big Sky, you have several houses of worship to choose from:
Soldiers Chapel - Highway 191
Soldiers Chapel is an interdenominational chapel that is open for daily reflection from May to September. Sunday services are held at 11 AM Memorial Day through Labor Day. The Soldiers Chapel was dedicated in 1955 by the Story Family in tribute to a fallen soldier from the 163rd Infantry Regiment which was part of the Montana National Guard during World War II.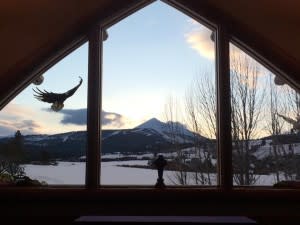 Big Sky Chapel
Big Sky Chapel - Big Sky Meadow Village
The Big Sky Chapel offers stunning views of Lone Mountain. It is an interdenominational chapel where different congregations meet every Sunday year round. Services include:
Consult the chapel website for the most up-to-date schedule and a full calendar of programs, meetings, groups, studies, and events.
Big Sky Resort Ministries - Big Sky Resort

Lone Mountain at Big Sky Resort | Photo by D. Lennon
If you're looking for on-mountain church services, where you can connect with a higher power while wearing ski boots, this is the option for you. Sunday services are held at Big Sky Resort. At 1:30 PM a service is held at the base of Powder Seeker (formerly known as the Lone Peak Triple Chair) and at 3 PM a service is held at the top of the Six Shooter Chair.
The Church of Jesus Christ of Latter-Day Saints - Big Sky Branch
Located off of Highway 191, the Big Sky Branch LDS Church Facebook page contains their Sunday schedule.
All of these houses of worship are popular among locals and visitors alike. Come and experience these services when you're in town to connect with like-minded people and to find faith in Big Sky.
See Also: