Are you traveling to Big Sky Country with your pet? Well, you're in luck, because we love meeting your furry friends!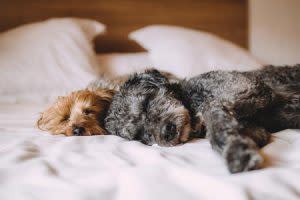 Pet Friendly Lodging | Pixabay Image
Pets are a big part of the Montana lifestyle and culture. Just walk around this mountain town and you'll see plenty of pets accompanying their owners on hikes, bikes, and walks. Pets are part of the family, and that means that they are going to be one of your main traveling companions. And they are going to love Big Sky!
Traveling with your pet is an enjoyable experience - especially when you can find pet friendly lodging. Not every hotel, motel, lodge, or VRBO allows pets, but many do. If you're keen to book pet friendly lodging in Big Sky, you need to plan ahead. Always call to check the hotel's pet policies before you book online. This will ensure that everything goes smoothly with your stay in Big Sky, Montana.
Listed below are a handful of options that offer pet friendly lodging in Big Sky, Montana: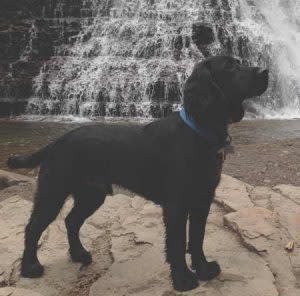 Dog At Ousel Falls | Photo: Les Lobel
When you book pet-friendly lodging in Big Sky, reservations are required. Expect to pay an up-charge for a pet friendly room. Please be honest with the hotel and never try to sneak your pet into your room. That's just not cool. As a responsible pet owner you need to follow the rules so that you don't ruin the pet-friendly experience for everyone.
If you're traveling with your pet in Big Sky, here are a few simple pet etiquette rules that you need to follow: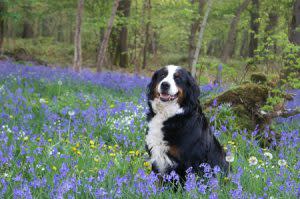 Bernese Mountain Dog On Hike | Pixabay Image
Read and understand the hotel's pet policy.
Always clean up after your pet.
Keep your pets on a leash and under control.
Don't leave your dog unattended.
Keep your dog from barking.
Bring everything that you need - leashes, bowls, food, water, jackets, dog beds, poop bags, meds, snacks, etc.
If possible, ask for a ground floor room near the end of the building with easy access to outside.
A tired dog is a good dog.
Alert staff if there are any accidents or issues.
Your pet is going to love Big Sky's backyard as much as you do. Stop by the Big Sky Visitors Center to find out about pet friendly activities, get recommendations on hikes, and more. After a big day in the great outdoors, stop by the Beehive Brewery for a local craft beer in a dog friendly environment.
If you need help with your pet while you're in Big Sky, check out Hiking Hounds for dog walks and pet care. There are numerous kennels, doggie daycare facilities, vets, and grooming options in Bozeman and Four Corners. And of course, in the event of an emergency there is a vet in Big Sky too.
Have a fun!
See Also: