Are you a rock climber? Then you're going to love the rock climbing in Big Sky, Montana. Climbers of all ability levels will enjoy climbing the limestone and gneiss around Big Sky. Are you ready to get on some rock?
Here are two popular spots to go rock climbing in Big Sky, Montana: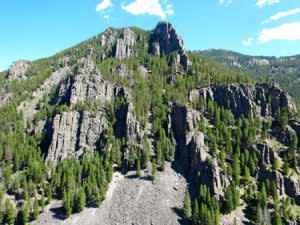 Gallatin Canyon | Photo D. Lennon
Red Cliff - Red Cliff campground is just south of Big Sky on highway 191. Above the campground is one of the better sport climbing areas in Big Sky. The bolted routes range from 5.8 to 5.10c on this red colored, pocketed limestone. There are multiple sport routes in this area.
Gallatin Canyon - To access the majority of the climbing in Gallatin Canyon, park at the large pullout by the 35 MPH bridge. There are climbs on both sides of the road, but the bulk of it is on the east side of the road north of the highway. Cross Highway 191 and head toward the numerous gneiss formations. Routefinding can be difficult, but once you know the lay of the land, you'll be able to find a lifetime of climbing options. The majority of the routes are trad climbing routes, so bring your gear and have fun.
Other areas near Big Sky to explore include Beehive Basin, Greek Creek, Gallatin Canyon Limestone, Madison River Area, and beyond. The climbing in Big Sky, Montana is top-notch. Grab your gear, find a climbing partner, and get out there.
When rock climbing in Big Sky, the options are endless. If you want to learn more about specific routes, ratings, and locations pick up one of these Montana climbing guidebooks:
Pick up rock climbing gear (harnesses, cams, quickdraws, ropes, carabiners, belay devices, etc) from Grizzly Outfitters in the Big Sky Meadow or Spire Climbing Center In Bozeman. If you're looking to hire a rock climbing guide for the day, contact Montana Alpine Guides.
Just a beginner climber? Visit the climbing walls located at Big Sky Resort or Geyser Whitewater, or Spire Climbing Center.
Have fun and share your climbing photos with #visitbigsky.
See Also: