As winter creeps closer, social media is producing an overwhelming number of images of snowy peaks and forecasts of monster storms across the Northern Hemisphere. People all over the world are getting stoked for another snowy winter. The season is kicking off soon, and it's only a matter of time before the lifts are spinning and you're sliding down the mountain on a blanket on white. But first you need to plan a ski trip to Big Sky, Montana!
Big Sky is the place to go if you want to enjoy epic snow, few crowds, a family-friendly atmosphere, and terrain that's unrivaled anywhere in the country. It's earned the reputation as The Biggest Skiing In America for good reason. Big Sky is home to 5800 acres, 300 named runs, 400+ inches of snow, and the iconic Lone Peak. If you daydream about skiing in a fantasy land, you're probably painting a mental picture of Big Sky. This place is eye-opening.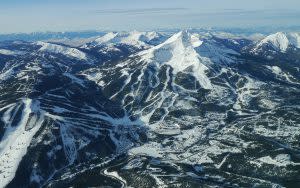 Aerial of Big Sky | Glenniss Indreland
Are you ready to plan a ski trip to Big Sky? Here are a few things to bear in mind:
Pick Your Dates - The ski resort is open from Thanksgiving to mid-April. Every month offers something unique and there really isn't a bad time to book your trip to Big Sky.

A Winter Wonderland | Photo: BIg Sky Resort
Book Your Flight - The closest airport to Big Sky is Bozeman, Montana. There are numerous direct flights from nearly every airline to BZN. That means that no matter where you are in the world, you're probably no more than two flights away.
Find A Place To Stay - Big Sky is nestled in the Madison Range of Montana. When searching for a place to stay you have three main options - Canyon, Meadow, and Mountain. There are lots of hotels in Big Sky to choose from and there are also plenty of VRBO options too.
Think About The Details - Need transportation to the mountain? Planning a romantic dinner? Need to purchase lift tickets or book lessons? Wondering where to rent ski gear? Looking for the best après ski scene? Wondering what activities are happening in Big Sky while you're here?
Plan Your Activities - If you're coming to Big Sky in winter, it's likely that you're planning to go skiing at Big Sky Resort, but there are so many things to do here. Take a day off and plan to visit Yellowstone, go snowmobiling in the Gallatin forest, ride a dog sled, try snowshoeing, cross country ski at Lone Mountain Ranch, or try winter fly fishing. Gear rental is available for pretty much any activity that interests you.


Erik Lovold Skiing Below Lone Peak | Photo: Love Street Media

Enjoy! - Once you're here you can sit back enjoy everything that Big Sky has to offer. If any questions come up, check out the Visit Big Sky blog. It will likely point you in the right direction for whatever you're looking for.
We highly encourage you do to your research on other ski destinations . We know that there are lots of fantastic places to ski in the world, but once you try Big Sky, you're going to be hooked. Book your trip and see for yourself!