Do you enjoy skiing and riding in the trees? Then you need to visit Big Sky, Montana for some good old-fashioned tree skiing fun. Big Sky is proud of its reputation as a big mountain destination, but the resort is also a prime place to ski some of the best tree runs in the world.
Tree skiing at Big Sky can be a life-changing experience. There's nothing like skiing or riding through perfectly thinned glades and finding untouched powder days after a storm. Plus, the trees are the place to be on those flat light days or when the upper mountain is closed. At Big Sky you can lap new tree runs all day long. It's a blast.
Big Sky Resort boasts 5,800 acres of ski terrain with 300 named runs on 4 connected mountains. As you can imagine, there are plenty of tree runs to explore. Some of Big Sky's best tree runs are hiding in plain sight. You just have to know where to look.
When you take a look at the Big Sky Resort trail map, it's easy to be overwhelmed. The place is massive! Below you'll find some of the best named tree runs in Big Sky. These trails are marked blue and black and you can find them on the map. Here they are sorted by mountain and by chairlift:
Andesite Mountain

Southern Comfort

Pomp - Blue
Lizette - Blue

Thunder Wolf

Bear's Lair - Black
Snake Pit - Black
Shady Chute - Black
Wolf's Den - Black
Lone Mountain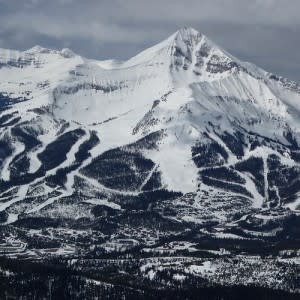 Lone Mountain
Swift Current

Lois Lane - Blue
Soulhole - Black
Tango Trees - Black

Challenger

Midnight - Black
St. Alphonse Trees - Black

Six Shooter

Hollywood/Woodward - Black
Big Tree Cutoff - Black

Lone Tree

Whiskey - Blue
Broken Heart - Black
Marshall - Black
Double Jack - Black
South Face of Lone Mountain
Shedhorn

Bacon Rind - Black
White Pine - Black

Dakota

Badlands - Blue
Bavarian Forest - Black
Erika's - Black
Cardio Trio - Black
Did we hit them all? Of course not! We can't give away all of our secret stashes. Let's just say that the tree skiing is endless. Did you know that Big Sky often glades new tree trails in the summer? That means the tree skiing at Big Sky only gets better every year.
Grab a buddy and go explore the best tree runs at Big Sky Resort. When you're giggling with excitement, you'll quickly realize that Big Sky offers some of the best tree skiing in the world.
See Also: