Located within the Custer-Gallatin National Forest and Yellowstone National Park, the Gallatin Range is the largest unprotected mountain range bordering Yellowstone National Park. This majestic and wild mountain range is the perfect place for any outdoor enthusiast who loves to explore.
As you drive down the Gallatin Canyon en route to Big Sky, Montana the mountains to the east make up the Gallatin Range. This range stretches roughly 75 miles by 20 miles. It runs from Bozeman in the north and ends within the Yellowstone National Park boundary in the south. It's bordered on the east by the Yellowstone River and the Paradise Valley and on the west by the Gallatin Canyon and the Gallatin River.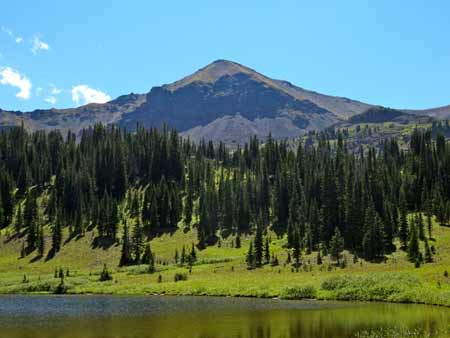 Hyalite Peak | Photo: A Mountain Journey
This mighty mountain range is a part of the Greater Yellowstone Ecosystem. It is home to grizzly bears, wolves, elk, and other wildlife. It's a well known outdoor playground for snowmobiling, hiking, biking, climbing, and other sports. One unique feature of the Gallatin Range is the Gallatin Petrified Forest - one of the largest petrified forests of the Eocene Epoch.
The Gallatin Range is named after Albert Gallatin, a Swiss immigrant who was the longest serving US Secretary of State in US history. Gallatin served from 1801 to 1814 under both Presidents Thomas Jefferson and James Madison. He was instrumental in planning the Lewis and Clark Expedition, which explored much of the western US.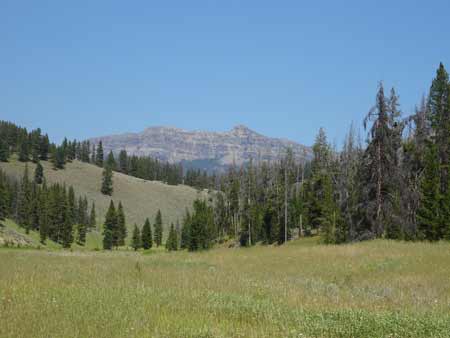 Ramshorn Peak | Photo: A Mountain Journey
Explore the peaks of the Gallatin Range. The hikes are epic and views are outstanding. Below you'll find some of the highest peaks in the Gallatin Range:
Electric Peak - 10,969'
Mount Holmes - 10,336'
Mount Bole - 10,333'
Mount Chisholm - 10,333'
Bannock Peak - 10,332'
Hyalite Peak - 10,298'
Ramshorn Peak - 10,296'
Overlook Mountain - 10,265'
Quadrant Mountain - 10,213'
Twin Peaks - 10,181'
Mount Blackmore - 10,154'
Fridley Peak - 10,150'
Elephant Mountain - 10,085'
Divide Peak - 10,041'
Alex Lowe Peak - 10,031'
Steamboat Mountain - 10,030'
Eaglehead Mountain - 9,979'
Flanders Mountain - 9,961'
The Sentinel - 9,945'
Big Horn Peak - 9,930'
Palace Butte - 9,868'
Sheep Mountain - 9,855'
Fortress Mountain - 9,771'
Packsaddle Peak - 9,704'
Sepulcher Mountain - 9,646'
Shooting Star Mountain - 9,587'
Maid Of The Mist Mountain - 9,563'
The Mummy - 9,563'
Meldrum Mountain - 9,553'
King Butte - 9,315'
Sleeping Giant Mountain - 8,921'
Burnt Top - 8,733'
Wheeler Mountain - 8,603'
Bunsen Peak - 8,564'
Weber Mountain - 8,483'
Grouse Mountain - 8,428
Mount Ellis - 8,331'
Garnet Mountain - 8,245'
Sunshine Point - 8,235'
Lemon Drop - 7,354'
Storm Castle Peak - 7280'
Are you ready to explore the Gallatin Range? Which peak are you going to climb first? Be sure to share your photos on social media with #visitbigsky.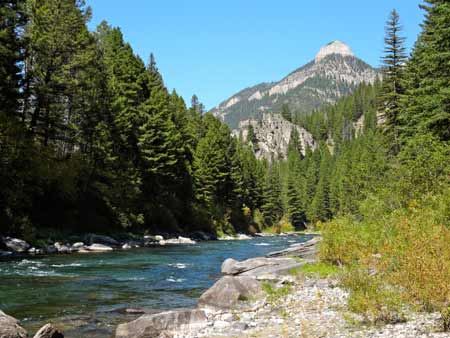 Storm Castle Peak as seen from the Gallatin Riverside Trail | Photo: A Mountain Journey
This is an unofficial list of the highest peaks in the Gallatin Range.
See Also: