Can you name the highest peaks in the Madison Range? You'll be able to after you read this post!
Big Sky, Montana is nestled in the middle of the Madison Range. Named after President James Madison, the Madison Range is on the western edge of the Greater Yellowstone Ecosystem.
The Madison River stretches from I-90 in the north to West Yellowstone in the south. It is confined by the Madison River on the west and the Gallatin River on the east. This remote mountain range stretches roughly 80 miles north to south and 25 miles east to west.
The Madison Range is located in both the Beaverhead-Deerlodge and Gallatin National Forests. It is home to the Lee Metcalf Wilderness which covers 242,068 acres and contains four wilderness units: Bear Trap Canyon, Spanish Peaks, Taylor-Hilgard, and Monument Mountains. It's wild and remote country that is filled with hiking, climbing, backpacking, and peak bagging potential.
Mountain peaks surround Big Sky and beckon adventurers to climb them. They offer stunning 360-degree views of Big Sky country and the surrounding peaks. Whenever we reach a summit in the mountains, we like to identify the highest peaks in the Madison Range because it makes it easier to plan our next adventure.
If you're a fan of peak bagging, here are the highest named peaks in the Madison Range: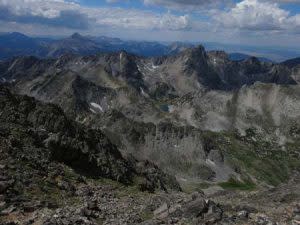 Madison Range | Photo: D. Lennon
Hilgard Peak - 11,316 ft | 3,449 m - First Climbed In 1948
Koch Peak - 11,293 ft
Echo Peak - 11,260 ft
Imp Peak - 11,202 ft
Lone Mountain - 11166 ft
Gallatin Peak - 11,015 ft
Dutchman Peak - 10,991 ft
Sphinx Mountain - 10,876 ft
Sentinel Peak - 10874 ft
No Man Peak - 10,848 ft
Cedar Mountain 10,766 ft
Beehive Peak - 10742 ft
Finger Mountain - 10738 ft
Wilson Peak - 10,705 ft
Woodward Mountain - 10,659 ft
Sage Peak - 10,653 ft
Pyramid Point - 10,641 ft
Jumbo Mountain - 10,412 ft
Blaze Mountain - 10,384 ft
Redstreak Peak - 10,384 ft
White Peak - 10,355 ft
Fan Mountain - 10,304 ft
Beacon Point - 10,224 ft
Nutters Cathedral Peak - 10,217 ft
Monument Mountain - 10,069 ft
Snowslide Mountain - 10,030 ft
Red Mountain - 9,986 ft
Shedhorn Mountain - 9,937 ft
Mount Chipperfield - 9,880 ft
Pioneer Mountain - 9,859 ft
Table Mountain - 9,851 ft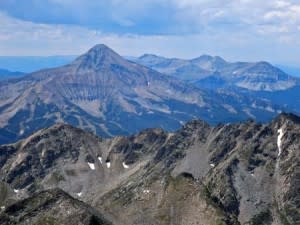 Lone Peak In Summer | Photo D. Lennon
This unofficial list focuses on the named peaks in the Madison Range near Big Sky. It does not include unnamed peaks that are only designated by an elevation on different maps. One of the best overview maps of the Big Sky area is produced by Beartooth Publishing. Pick up a copy today!
Use this unofficial list of the highest peaks in the Madison Range as a fun way to impress your friends over Montana Beers or as a tick list for your climbing adventures. Be safe out there and we'll see you on the summit!
See Also: