Big Sky is the perfect base camp for outdoor adventures. After a beautiful summer day of hiking, fishing, biking, rafting, or climbing, it's nice to be able to head back to your campsite, build a campfire, and relax. Then you can quietly fall asleep in your tent, RV, or van as the stars twinkle at you from far above in the perfectly clear Montana sky.
Camping is a popular summer activity in Big Sky Country. There are five designated campgrounds located in the Gallatin Canyon that are within close proximity to Big Sky. (If you're not exactly sure where Big Sky is located, check out this post). Depending on snow, those sites are usually open mid-May until the end of September. Campgrounds near Big Sky are often booked solid, so reserve your site well in advance.
The following campgrounds near Big Sky are located in the Gallatin Canyon. They are listed from North to South.
Camping at a campgrounds near Big Sky, Montana is a great way to experience the things that make Big Sky so special. Have fun on your camping adventure!
A few things to note about camping at campgrounds near Big Sky, Montana: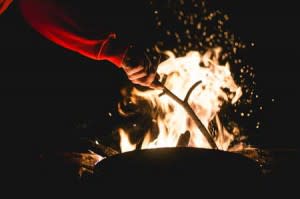 See Also: