There's no way around mud season.
It's part of the natural cycle of mountain town life. While many skiers and riders get the mud season blues after the ski slopes shut down for the season, other find this is to be a prime to relax and recharge before summer kicks in.
For those that don't know, mud season is the off-season between the ski season and the summer season. It's called mud season because the snow is melting rapidly and creating a muddy and dirty place to play. Mud season typically runs from mid-April to mid/late May.
Most people think that Big Sky grinds to a total halt during mud season. Sure, a good chunk of Big Sky residents take off for road trips to Moab, head home to see family, or take a well deserved vacation to a far flung locale, but the people who stick around or the guests who come into town are in for a special treat, because mud season is actually a great time to visit Big Sky.
If you're looking for things to do in mud season in Big Sky, here are a few ideas: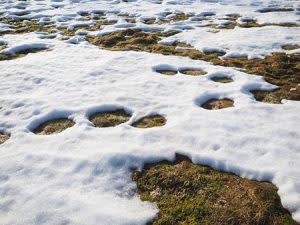 Melting Snow | Pixabay Image
Spring Biking In Yellowstone National Park - Before the roads open to vehicle traffic, they are open to bikers. Grab your bike and head into the park for an experience that few people ever have.
Wildlife Spotting - Did you know that the majority of animals have babies in the spring? Head to the Lamar Valley in YNP to spot wildlife.
Hot Spring Tours - Big Sky Country is home to lots of hot springs. You can access both commercial and natural hot springs with a quick and easy drive from Big Sky. Chico Hot Springs and the Boiling River are always a hit.
Fly Fishing- Fly fishing is a year round activity. Hire a fly fishing guide and have them show you the best fishing in SW Montana.
Whitewater Rafting - As the rivers swell, the rapids get bigger. Many of the rafting companies start the season in April/May.
Backcountry Skiing - Many people put their skis away when the resort closes, but there is still plenty of skiing to be found in Big Sky Country. Whether you head to Beartooth Pass or explore deep in the backcountry of the Madison Range, it's easy to find snow until May.

Mud Season Skiing Adventures In the Madison Range | Photo: D. Lennon
Road Biking - While the trails may still be muddy, the roads are typically dry. Grab your roadie and go for a spin. Of if you want to check out the trails, grab a fat bike and see what happens.
Low Elevation Hiking - Many of the hikes at lower elevations or on south aspects will be dry and ready to go by May. Bring your waterproof hiking boots and go exploring.
While mud season may not sound appealing, it's still a fun time of the year to visit Big Sky. The crowds are gone, there are plenty of discounts on food and lodging, and there are so many things to do during mud season in Big Sky. While we still may get the occasionally snow storm, the weather is typically ideal for getting outside and having an adventure in Big Sky's backyard. For some people, this might be the perfect time to plan your trip.
Don't dread the day that the lifts stop spinning. Instead of letting mud season get you down, embrace mountain town life and make the most of the off-season. We hope to see you during mud season in Big Sky. What will you do first?
And you know what happens after mud season, right? The wildflowers come out and it's time for summer in Big Sky! Are you ready for that?
See Also: Summer: Big Sky's Best Kept Secret