What do you love about Montana? If you ask most people it's the easy access to some of the last wild places in the Lower 48. We can literally walk out the door and be rafting, hiking, biking, skiing, wildlife spotting, camping, backpacking, golfing, fishing, horseback riding, and so much more. Yes, Montana is awesome.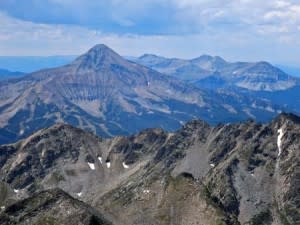 Lone Peak In Summer | Photo D. Lennon
Big Sky is an outdoor paradise. There are not many places where you can adventure and rarely see another person. We see moose, bears, wolves, elk, mountain goats, big horn sheep, and other large animals on a regular basis. The mountains are massive and remote. The alpine lakes are pristine. The rivers are swarming with fish. The forests are healthy. The entire Greater Yellowstone Ecosystem is special because it's so pristine. It's exactly what every outdoor lover dreams about.
But access to such a jaw dropping outdoor playground comes with great responsibility. For those that choose to recreate in Big Sky Country, it's our job to leave Mother Nature the way we found it. We all need to practice sustainable recreation. This means that we need to preserve our landscape so that it can be enjoyed by others in the same way that we enjoy it.
There's something magical about walking through Bear Basin during the wildflower bloom, standing on Gallatin Peak at sunrise, or enjoying a remote backcountry campsite in the Taylor Hilgards. These are all places where people go regularly, yet when we are there it feels like the first time anyone has ever been there. That's what makes Big Sky so unique.
In order to protect Big Sky and all wild places, we all need to strive to live by the 7 principles of Leave No Trace from LNT.org: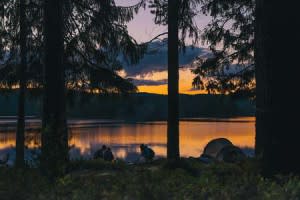 LNT.org's 7 principles of Leave No Trace are pretty simple things to do. It's kind of like the golden rule: Do Unto Others As You Would Have Them Do Unto You. These simple concepts are easy enough for a kindergartner to follow and understand.
Let's apply the 7 principles of Leave No Trace to our home:
Don't leave trash in Taylor Fork.
Don't take selfies with bison.
Pick up after your dog.
Be prepared for your adventure.
Don't start forest fires.
Don't chop down live trees.
Pack out what you bring in.
Don't rock out with your boombox while hiking down Beehive Basin Trail.
Don't trample wildflowers on Cinnamon Mountain.
Be bear aware and always carry bear spray.
Don't ride your bike in the Lee Metcalf Wilderness.
Don't take a bath in a hot springs.

Fishing The Gallatin | Lone Peak Outfitters
Are you starting to get the drift? Treat Big Sky's backyard with respect.
These principles should be hardwired into the brains of everyone who enjoys the scenic terrain around Big Sky. It's something that every single one of us needs to practice and preach. Teach others about protecting the resources that attracted us all here in the first place. A small effort now will have a huge and positive impact over time.
Protect Big Sky and all wild places. Live by the 7 principles of Leave No Trace so that we can all enjoy the Montana where we live, work, and play.