Is Big Sky, Montana The Perfect Place For A Destination Wedding?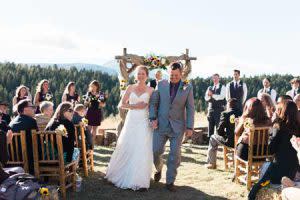 Happily Ever After... | Photo: Lone Mountain Ranch
When it comes to planning a wedding, there are millions of details that you'll need to consider. One of the most important decisions you'll be faced with is where to get married. Why not plan to get married in Big Sky, Montana?
Big Sky is the perfect location for a destination wedding. This charming mountain town has all of the amenities that a bride and groom (and of course, their hand-picked guests) could ever want or need. What could be more magical than getting married surrounded by snow covered peaks, meadows full of wildflowers, flowing mountain rivers, and your best friends and treasured family?
Our mountain cathedral is the perfect place to exchange vows and tie the knot. Plus, your guests from around the world will be excited to join you in this cool destination. There's a lifetime of activities that will keep all ages of friends and family entertained - hiking, biking, climbing, shopping, rafting, fishing, and the list goes on…
Happy guests combined with a smiling bride and groom makes for the perfect combination. No wedding is complete without focusing on the small details before the big day arrives. Luckily, Big Sky is a popular wedding destination and it's easy to make everything perfect in this small town.
Big Sky has chapels, caterers, florists, hair and makeup, officiates, photographers, transportation, venues, wedding planners, lodging, restaurants, shopping, and numerous venues to choose from. Some of the most popular wedding chapels and venues where you can get married in Big Sky include:
Chapels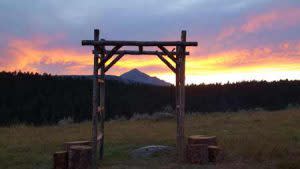 Photo: Lone Mountain Ranch
Venues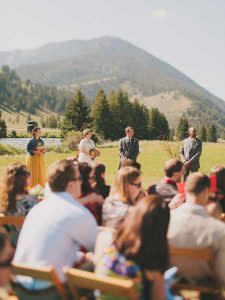 Getting Married In Big Sky, Montana | Photo: 320 Ranch
You can't go wrong with any of these venues. From big and beautiful to small and intimate, anywhere you get married in Big Sky will offer stunning views, professional service, and Montana charm. It's all part of the Big Sky wedding experience. Come to Big Sky and create your very own customized, personalized, and unique ceremonies and receptions.
Make Montana your special place on the happiest day of your life. Start planning your Big Sky wedding at VisitBigSkyMT.com today.
Will you say "I Do" in Big Sky? We hope so.
See Also: