What Mountain Ranges Can You See From The Top Of Big Sky Resort's Lone Mountain?
The state name of Montana comes from the Spanish word Montaña, meaning "mountain." It's quite a fitting name for the Treasure State because of the vast mountainous terrain located in Montana. As home to some of the last wild places in the Lower 48, Montana is a mountain lover's paradise.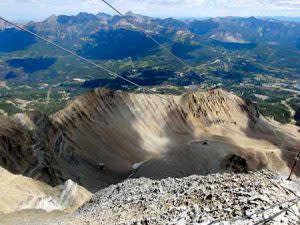 The Spanish Peaks and the Tram | Photo: D. Lennon
Whether you like to ski, climb, hike, bike, fish, ATV, snowmobile, or do anything else in the mountains, there's a lifetime of adventure in Montana for you. It would be nearly impossible to climb every peak or hike every trail in Montana, but it might be possible to visit ever mountain range . Why not start that adventure with the mountain ranges near Big Sky?
According to the Montana State Library, there are 64 mountain ranges in Montana. The vast majority lie in the western and southwestern regions of the state. The eastern part of the state is largely prairies and badlands. The mountain ranges of Big Sky Country all lie relatively close together, creating an intricate patchwork of mountains that beckon mountain enthusiasts to play and explore.
We aren't going to publish a full list of Montana mountain ranges in this post, but you can see a full list of mountain ranges in Montana on the Montana State Library website. Instead, we are going to focus on the Montana mountain ranges that are visible from the top of Lone Mountain in Big Sky, Montana.
From the top of Lone Mountain at Big Sky Resort, you can see the following major Montana mountain ranges:
Madison Range - Big Sky is nestled into the middle of the Madison Range.
Gallatin Range

The Gallatin Range as seen from Hyalite Peak | Photo: A Mountain Journey
Bridger Range
Absaroka Range
Beartooth Range
Centennial Mountains
Gravelly Range
Tobacco Roots
Bangtail Range
Crazy Mountains
That's only 10 of 64 mountain ranges in Montana. From the top of Lone Mountain, you can also make out mountain ranges in Idaho, Wyoming, and Yellowstone National Park - including the Teton Range. A keen eye on a clear day with a pair of binoculars and a map may be able to make out even more ranges in the distance.
Anyone can go up high and see this view for themselves when they book the Lone Peak Expedition at Big Sky Resort. Take a ride in the Lone Peak Tram to 11,166' and peer out over a sea of mountain ranges. It's an eye-opening experience that provides a fascinating view of SW Montana.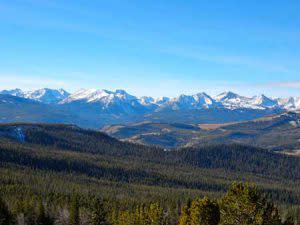 The Madison Range | Photo: A Mountain Journey
Come and see the mountains of Montana for yourself. There's nothing quite like it anywhere else. This place is wild.