Each year these endless mountain ranges get covered in a beautiful blanket of snow. As the snow begins to melt in the spring and summer, it flows downhill into creeks and streams until the run-off meets the mighty rivers of Big Sky Country.
Southwest Montana is home to an intricate network of wild rivers. They flow out of the vast mountain ranges into the Missouri, merge with the Mississippi and empty into the Gulf of Mexico. Eventually, some of those minuscule droplets of water will be back in Montana in the form of snow and the hydrologic cycle will start all over again.
But in the meantime, the rivers of Big Sky Country flow through some of the most pristine and most scenic regions of the United States. The number of rivers in SW Montana is amazing. They are all in close proximity, which makes them easy to access in a simple day trip when you stay in Big Sky, Montana.
For the outdoor recreationist, this is ideal. Whether you want to float, fish, or raft, there are numerous options to choose from. Add in the fact that each river is totally unique, and it really does become an endless playground. Plus when you consider that each and every river has its own conditions and weather patterns, you'll soon realize that every day spent on the rivers of Big Sky Country is a good day.
The only question left is which of the rivers of Big Sky Country do you plan to explore first?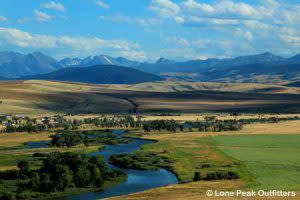 Beautiful Montana | Photo Credit: Lone Peak Outfitters
Gallatin River
Madison River
Yellowstone River
Jefferson River
Boulder River
Red Rock River
Big Hole River
Beaverhead River
Stillwater River
Smith River
Missouri River
Ruby River
As you can see there are plenty of options. All of the rivers near Big Sky are spectacular in their own way. It doesn't matter if you live in Big Sky or if you visit Big Sky: the year-round recreation potential on the rivers in this small corner of Montana are world class.
Looking for more information or specific details about the rivers of Big Sky Country? BigSkyFishing.com and MontanaAngler.com are fantastic online resources about the rivers of Montana. Alternatively, contact the fly fishing shops or guides in the Big Sky area. These local pros know the rivers better than anyone. See you out there!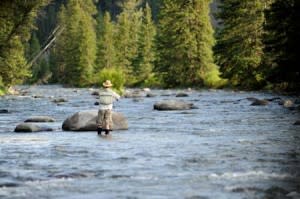 Fly Fishing On The Gallatin | 320 Ranch Photo
See Also: