Is it April already? Time sure does fly when you're having fun.
April marks the end of ski season and the beginning of spring. It's a fun time to be in Big Sky. The days are long, the temps are warming up, the wildflowers are vivid, and the skiing is fantastic! April in Big Sky is a blast.
Plus, there's a lot of things to do before the off season really kicks in. Get your calendar ready because you won't want to miss any of these things to do in April in Big Sky, Montana.
What Big Sky events will you be attending this month? Check out these things to do in April in Big Sky:
8 Things To Do During Mud Season in Big Sky, Montana
Here are a few things that occur weekly in April: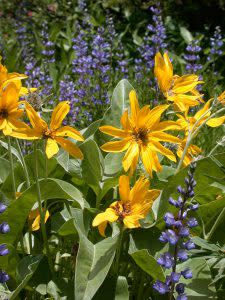 Big Sky Wildflowers | Photo: Glenniss Indreland
Did we miss anything? Contact us and we'll add it to the calendar! Be sure to share your events by the middle of next month to ensure that we can publish them in the next Things To Do In Big Sky post.
For the most up-to-date list of events, check out our event calendar.
This list of events hits on some of the major things to do in April in Big Sky, but there are other events too. Don't miss out on happy hours and live music at venues like Lone Mountain Ranch, The Gallatin Riverhouse, Rainbow Ranch, Ousel & Spur, Carabiner, and ScissorBills.
Get the latest schedule of events directly from your favorite Big Sky companies, nonprofits, and locals via social media. There's so much to do and so little time!
Plan your trip now and take advantage of everything that Big Sky, Montana can offer you. Be sure to tag #visitbigsky in all of your social posts. We're stoked to see what you've been up to. See you soon.
Stay up-to-date on Big Sky Events on the following websites:
See Also: