Big Sky is nestled into the Madison Range of SW Montana. It's not uncommon to see a moose strolling down the road, bighorn sheep causing traffic jams, or grizzly bears wandering through a meadow while on a hike. Endless trail systems weave through stunning mountains that will take you to backcountry lakes, hidden waterfalls, or towering peaks. It's easy to disconnect and get off the beaten path. This is one of the many reasons why we all love Big Sky, Montana. It's still wild.
Big Sky is part of the Greater Yellowstone Ecosystem. This is one of the last great wild zones in Lower 48 states and we have wilderness to thank for that. Google defines wilderness as "an uncultivated, uninhabited, and inhospitable region." In Big Sky Country, we describe it as our backyard.
What is Wilderness?
Wilderness is an American ideal. Wild lands helped to shape our nation - especially in places like Montana. Wilderness is diverse public land that is pristine, untouched, undisturbed, and free. It's a place to recreate and reconnect with nature. But did you also know that the concept of wilderness is protected by federal law?
On September 3, 1964 President Lyndon B. Johnson signed the Wilderness Act of 1964 in to law. This established the National Wilderness Preservation System "to secure for the American people of present and future generations the benefits of an enduring resource of wilderness .... devoted to the public purposes of recreation, scenic, scientific, educational, conservation, and historical use."
Based on the Wilderness Act, designated wilderness is:
Designated for preservation and protection in their natural condition...
Area where the earth and its community of life are untrammeled by man...
Area of undeveloped Federal land retaining its primeval character and influence, without permanent improvement or human habitation...
Appears to have been affected primarily by the forces of nature, with the imprint of man's work substantially unnoticeable...
Has outstanding opportunities for solitude or a primitive and unconfined type of recreation...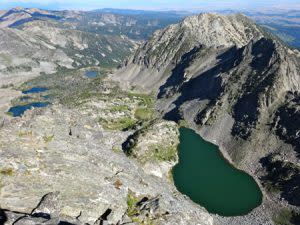 Beehive Lake and Spanish Lakes | Photo: AMountainJourney.com
Congress has the power to create even more wilderness areas in the future. The original NWPS legislation designated 54 wilderness areas covering 9.1 million acres in 13 states. Today there are 765 wilderness areas covering 109,129,657 acres in 44 states and Puerto Rico. Roughly 5% of the entire United States is protected wilderness area. Government agencies like the Bureau of Land Management, Fish and Wildlife Service, Forest Service and National Park Service manage these lands.
The great state of Montana is home to 15 different wilderness areas, including:
Absaroka-Beartooth Wilderness
Anaconda Pintler Wilderness
Bob Marshall Wilderness
Cabinet Mountains Wilderness
Gates of the Mountains Wilderness
Great Bear Wilderness
Lee Metcalf Wilderness
Medicine Lake Wilderness
Mission Mountains Wilderness
Rattlesnake Wilderness
Red Rock Lakes Wilderness
Scapegoat Wilderness
Selway-Bitterroot Wilderness
UL Bend Wilderness
Welcome Creek Wilderness

Entering The Spanish Peaks Unit Of The Lee Metcalf Wilderness
Venture into Big Sky's backyard and you'll find yourself in the Lee Metcalf Wilderness. Designated as wilderness in 1983, the Lee Metcalf consists of 259,000 acres managed by the BLM and USFS. This wilderness area is located within the Madison Range. It is divided into four separate wilderness units: the Bear Trap Canyon, the Spanish Peaks, the Taylor Hilgards, and Monument Mountain.
The next time you go and play in the mountains surrounding Big Sky, Montana, take a minute to soak in the views of the Lee Metcalf wilderness. The mountains that we love and enjoy are federally protected lands - and that's just one more reason why Big Sky is such a special place.
Learn more about wilderness in the United States on Wilderness.net