Where is Big Sky, Montana? It's where you need to be.
Big Sky, Montana is located in southwest Montana about halfway between Bozeman and West Yellowstone on Highway 191. It's easy to get to Big Sky from just about anywhere when you fly into Bozeman Yellowstone International Airport (BZN).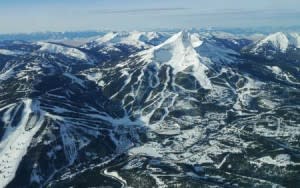 This little town that's next to everything is approximately 43 miles south of Bozeman and about 50 miles north of West Yellowstone and the West Entrance of Yellowstone National Park. What many people don't realize is that the true northwest border of Yellowstone National Park is just 15 miles from Big Sky.
This year round destination is an outdoor lovers paradise. Big Sky is home to world class skiing at Big Sky Resort, Yellowstone Club, and Lone Mountain Ranch. There are endless options for hiking, snowmobiling, mountain biking, horse back riding, rock climbing, hot springs, skiing, fly fishing, hunting, camping, dude ranches, wildlife spotting, and whitewater rafting. From backcountry adventures to high-end rest and relaxation, Big Sky has got something for everyone.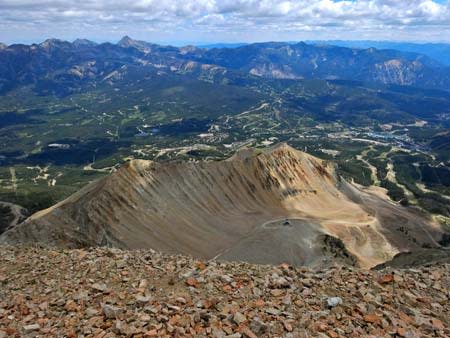 Photo: D. Lennon
Big Sky's Town Center sits at 6,250', while Big Sky Resort starts at 6800' and rises to the summit of Lone Mountain at 11,166'. Big Sky straddles Gallatin County and Madison County in the Madison Range of Montana.
The Madison Range spans 80 miles north to south and 25 miles east to west. It is named after former US Secretary of State James Madison, and contained by the Madison River to the west and the Gallatin River to the east. The Madison Range pans from West Yellowstone to just south of Bozeman, and is part of the Beaverhead-Deerlodge and Gallatin National Forests.
The Madison Range contains the Lee Metcalf Wilderness which was created by Congress in 1983. This vast wilderness covers 242,068 acres and contains four wilderness units: Bear Trap Canyon, Spanish Peaks, Taylor-Hilgard, and Monument Mountains. Plus, this area borders Yellowstone National Park and is considered to the western boundary of the Greater Yellowstone Ecosystem.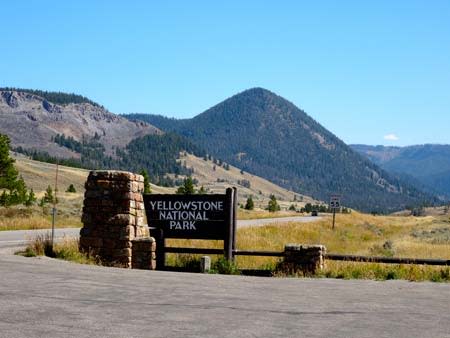 Photo: D.Lennon
Centered around Yellowstone National Park, the Greater Yellowstone Ecosystem covers 34,375 square miles. It's one of the largest intact temperate-zone ecosystems on Earth. The National Park Service loosely defines the Greater Yellowstone Ecosystem as 12-22 million acres of Wyoming, Montana, and Idaho. It encompasses state lands, two national parks, portions of five national forests, three national wildlife refuges, Bureau of Land Management holdings, private and tribal lands - and of course Big Sky, Montana too.
The Big Sky area is home to rugged wilderness, flowing rivers, a healthy wildlife population, geologic wonders, diverse vegetation, stunning lakes, and endless adventures. If you're looking for nature at it's finest, Big Sky delivers.
Everywhere you look there are jaw dropping views of endless snow capped mountains, miles of backcountry trails, and refreshing streams that flow out of the mountains and right through town into the Gallatin River en route for the mighty Mississippi. Keep your eyes peeled and you might spot moose, grizzly bears, wolves, elk, mountain goats, or big horn sheep.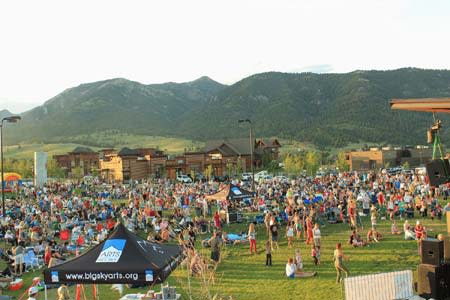 Free Thursday Concerts
As of 2020, Big Sky is home to 3,098 full time residents, but that number booms with seasonal residents and destination guests who come from near and far to enjoy all that Big Sky has to offer.
It's time to set your clocks to the Mountain Time Zone and plan a trip to Big Sky, Montana.
Pull out your map and you'll find Big Sky situated at 45°16′12″N 111°17′59″W.
The next time someone asks you, Where is Big Sky, Montana?, you'll know what to tell them. Learn more about Big Sky at Visit Big Sky.
See Also: